Alexander Hamilton is much in the news these days. For one thing, at the same time as he's threatened with eviction from the $20 bill, he has a hit musical opening on Broadway. Meanwhile, his old home, Hamilton Grange, peacefully resides uptown in St. Nicholas Park.
Fort Hamilton Triangle, by contrast, is a petite plaza in Bay Ridge, Brooklyn between 94th and 95th Streets, where Fourth Avenue – because of one of the countless quirks of New York City's street-naming scheme and geography – meets Fifth Avenue.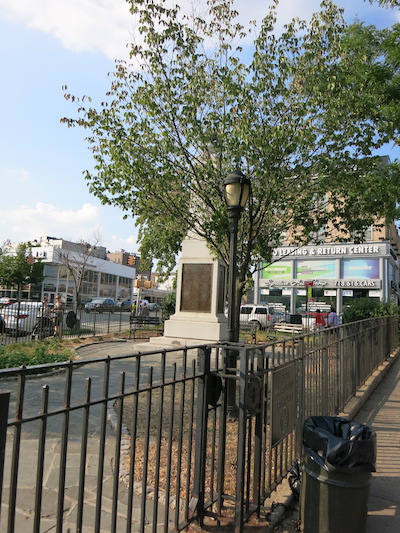 The day I walked by, the gate was locked. Had it been open, I could have gone in and had a nice sit, I suppose, my feet kicking the bluestone. Years ago many sidewalks around the city were paved with this beautiful stone. But it's too expensive to replace, so when sidewalks need to be redone the bluestone is replaced by characterless concrete.
There was no sign of the gangs of pigeons whose presence resulted in a temporary, unofficial name change to "Pigeon Park."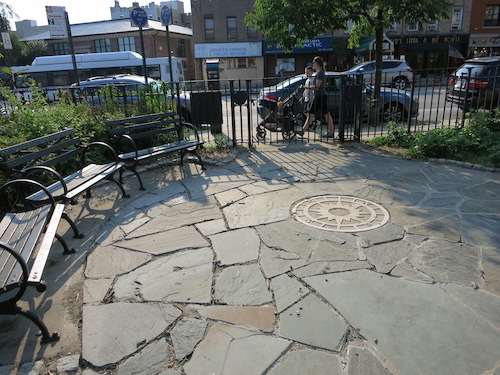 But this isn't Vanishing New York, so let's take a look at what's actually here, which will come as no surprise to readers of this blog: It's a memorial to the men of Fort Hamilton "who died in the World War" and "those who answered their country's call."
The Great War, that is. The War to End All Wars.
Specifically, these are the names of the soldiers who trained at nearby Fort Hamilton and served during World War I. Fort Hamilton itself dates from the 1820s, and is still in active use, housing "over 200 Army Reserve and National Guard units" according to the Parks Department website. Entered into the National Register of Historic Places in 1974, it's also the only currently active military post in New York City.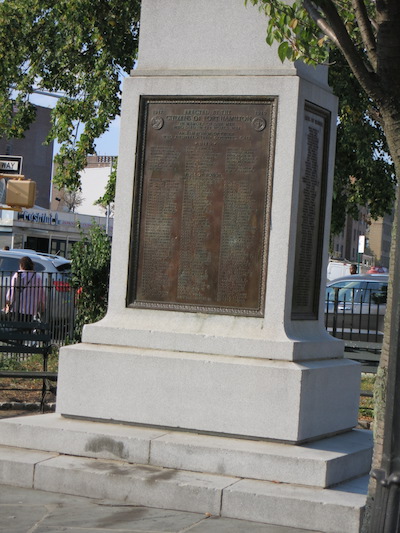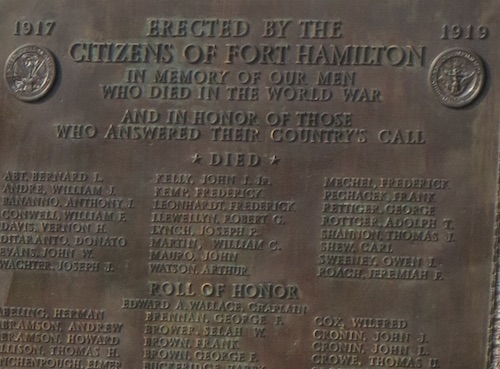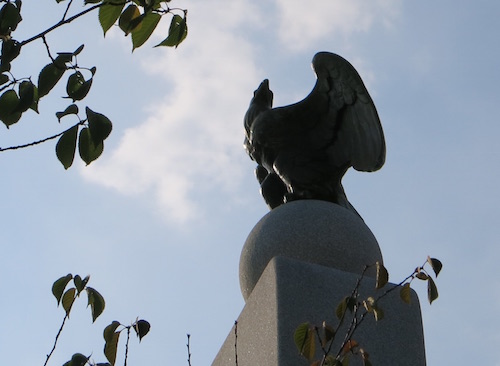 The name "Fort Hamilton" designates the fort's surrounding neighborhood, too, though the area is also considered part of Bay Ridge. And speaking of the neighborhood, in case the memorial and the nearby military base don't inspire enough patriotism, take a walk by the stupendously flag-draped Engine 242 firehouse nearby. While you're there, notice the quirky, Coney Island-style signage on the storefronts, which contrasts with the banner hawking trendy "Craft Spirits & Cocktails" at the bar next door to the firehouse.