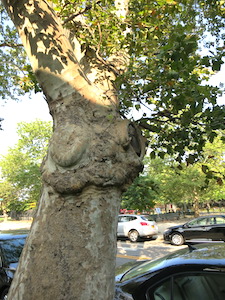 I've been servicing my car in Bay Ridge for at least a decade, and only just now discovered that there's a park a few blocks away.
The location of John J. Carty Park, affectionately known as "JJ Carty," under the Verrazano Bridge feeder ramps doesn't make for a pastoral landscape. But its history is tied to the great bridge's, as the Parks Department asserts: "The Triborough Bridge and Tunnel Authority developed both the Verrazano Narrows Bridge (1965) and this park concurrently thanks to a 1956 federal grant."
It's also known as Rubber Park because, according to Wikipedia, it was one of the first city parks with rubber matting under the children's play areas. (Not for the other reason any number of city parks could be called that.)
Rubber matting probably isn't needed under the Fort Hamilton Senior Recreation Center, which is in the southern tip of the park by 100th Street.
John J. Carty, who lived nearby, was a longtime First Deputy City Comptroller, and not to be confused with engineer and inventor John J. Carty, though the latter also had a New York City connection, becoming Chief Engineer of the Metropolitan Telephone and Telegraph Company in 1889.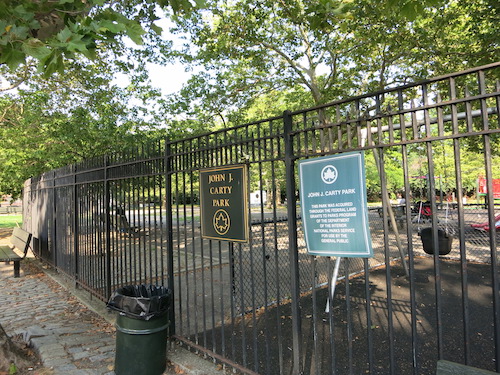 The park is really a row of separate spaces devoted to different activities. The best greenery comes from some lush trees just outside the park's northern end. Are these hickory trees? Ash? If anyone knows, please leave a comment below.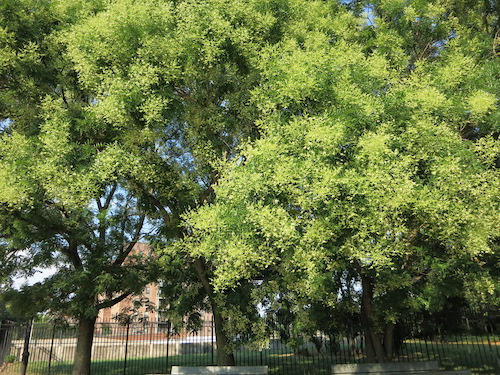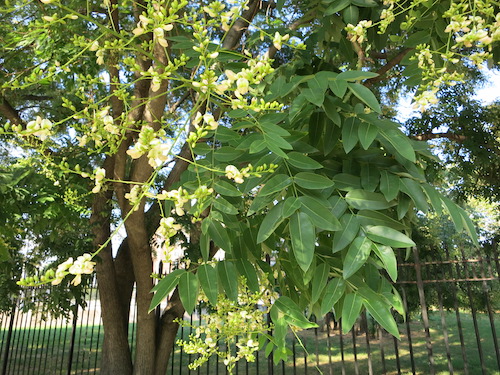 A peaceful sitting area contains a monument to the explorer Giovanni da Verrazano himself.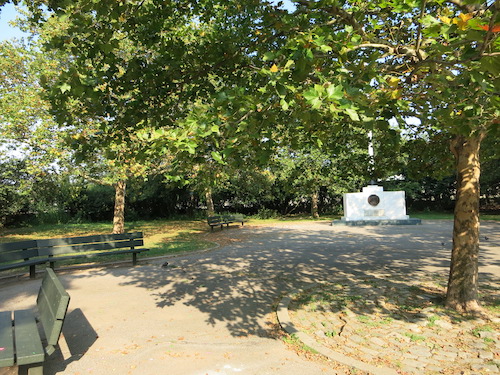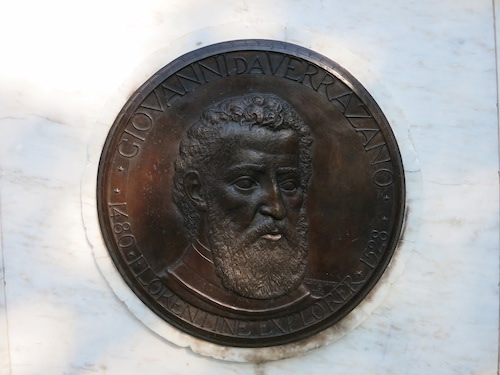 The lawns are thin and parched-looking right now, but the water jet was spraying enthusiastically on a happy toddler. After sinking into a state of relative neglect for awhile, JJ Carty got a bit of a touch-up during a recent spruce-up event.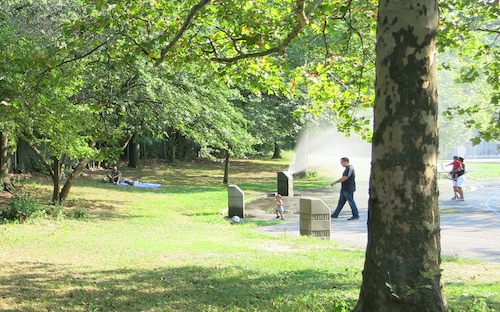 Step south, and an expanse of barren concrete sweeps up to a bridge ramp.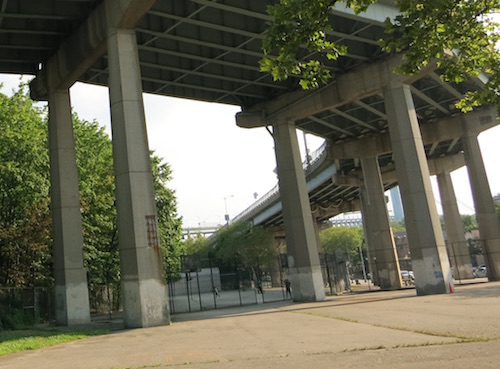 The tennis courts are not terribly well maintained – their Global Tennis Network listing has a blank space after "amenities" – but they look usable.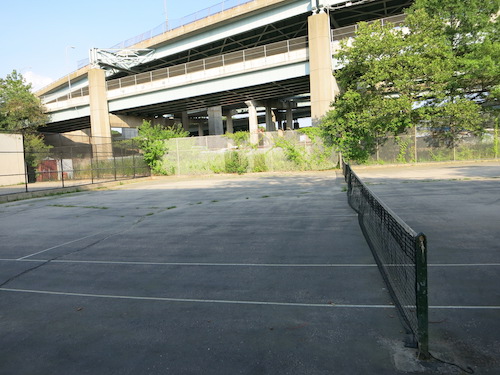 The farther south you go, the bleaker things look. If I'd approached from the lower end and walked up, this post might have a different aesthetic arc, even with the exact same photos.
In any case, given the location, it's nice there's a park here at all.