Newtown Creek Nature Walk
Synonymous to many New Yorkers with pollution and blight, Newtown Creek is seeing a bit of a conceptual renaissance. Unlike its neighbor to the south, the Gowanus Canal, Newtown Creek doesn't run through now-trendy and artsy neighborhoods. Instead it separates the industrial top edge of Greenpoint, Brooklyn's northernmost neighborhood, from the industrial southern edge of Queens's Long Island City section, whose artsy and developing quarters lie some distance from the shores of the canal-like waterway.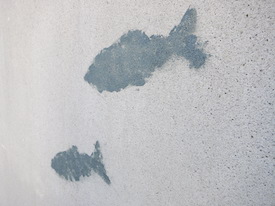 So the existence of the Newtown Creek Nature Walk will be a surprise to many New Yorkers, and, I wouldn't doubt, even to many residents of the nearby neighborhoods. Not a city park per se, it's a semi-natural environment built along the southern bank of the creek, designed by sculptor George Trakas and landscape architect firm Quenelle Rothschild & Partners, LLP for the New York City Department of Environmental Protection (DEP). (Quenelle Rothschild has had a hand in many NYC spaces, including Hudson River Park, the Battery at Manhattan's southern tip, and the Astor Place/Cooper Square redesign.)
The approach begins at the intersection of Paidge Ave. and Provost Street. Your only neighbors seem to be the enormous Newtown Creek Wastewater Treatment Plant, and a Spectrum facility where the vans that come to your apartment when your internet or cable service is out go home to sleep. But two granite boulders, dumped nearby during the Ice Age, mark the start of an unusual urban adventure.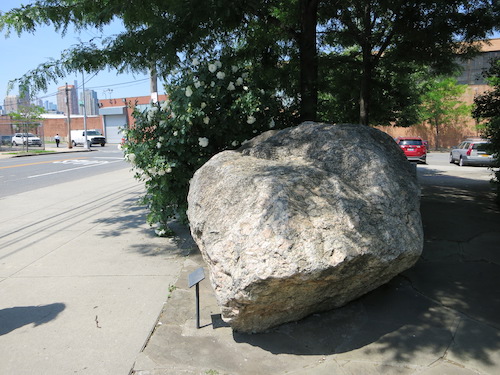 The curved bars of the shiny gateway are meant to suggest the water. Or perhaps reeds being pushed to the side by a rampaging hippo. I get the idea, but to me, it's not the most welcoming entryway.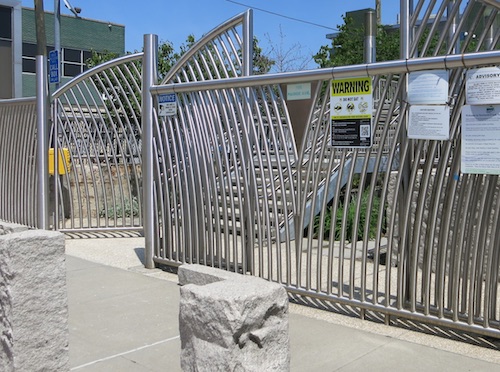 But a hidden outdoor dungeon underneath, described as a "fragrance garden," makes up for it. This is a space unlike anything else I've seen.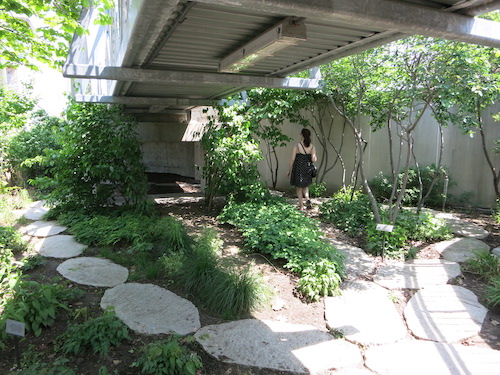 A long walled path called the "vessel," shaped to mimic the design of 19-century ships, leads you to the waterfront.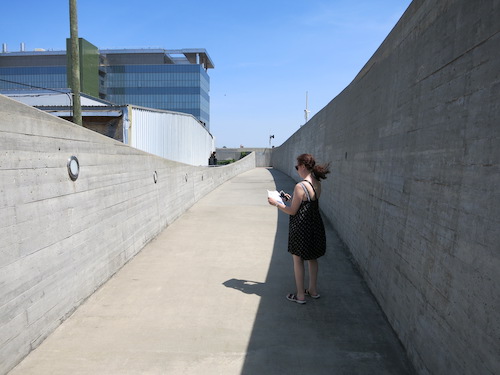 On a corner plaza, granite circles surround a honey locust tree, each etched with native place names.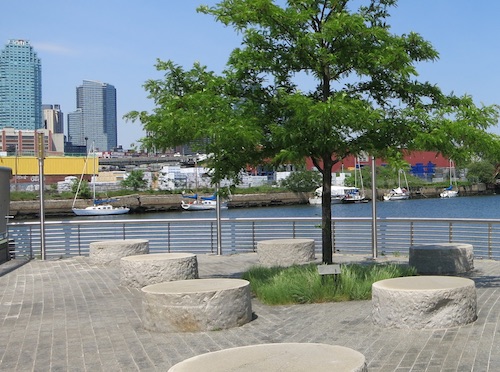 A sign gives their meanings. These translate as "Wet planting place" and "Where there are sharp rocks."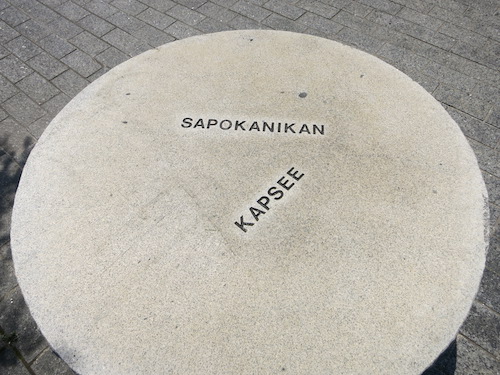 Nature sprouts up from a set of north-facing steps engraved with taxonomical and geological terms. But the view across the water is actually more interesting. It was hard to stop watching a giant claw load smashed cars onto a barge. The tugboat CMT Otter was picturesque too.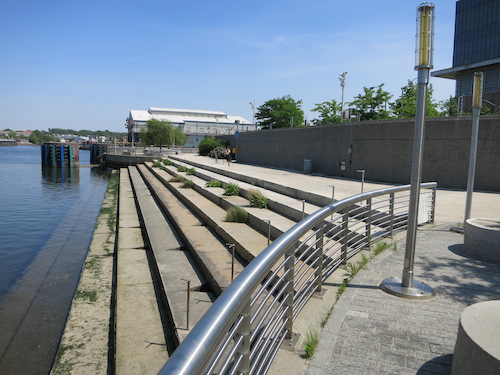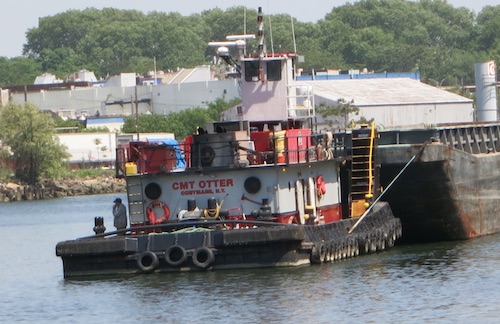 Want to know more about the Otter? Of course you do. Who wouldn't? Who doesn't love a tugboat? And it wasn't hard to find. (When it was built in 1980 it was named the Papa Tom. How's that for hyper-specialized trivia?)
We had the place almost to ourselves. A couple with a dog went by, a few young folks were ensconced around the corner on the Whale Creek Path, and a lone jogger zipped in and out. That was it.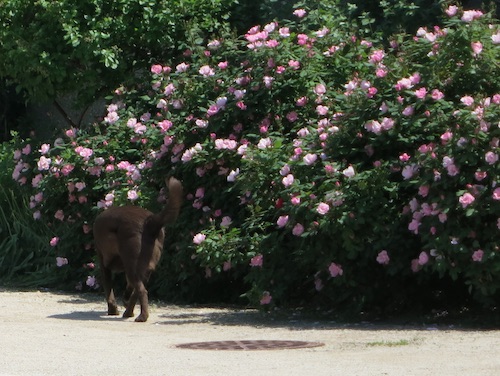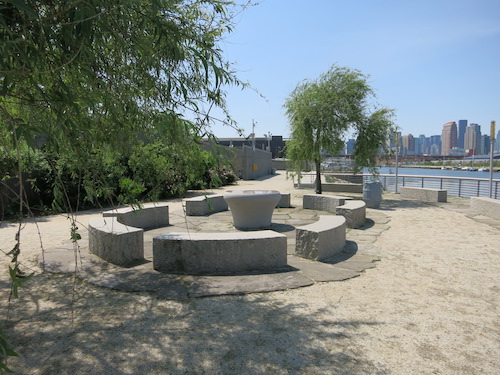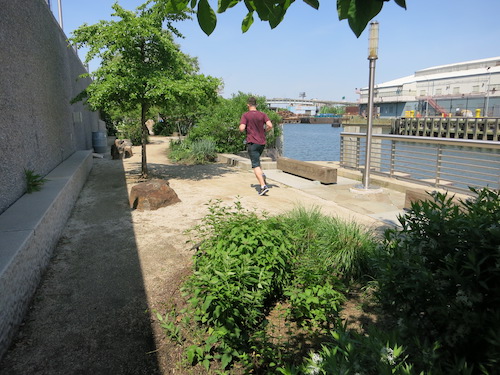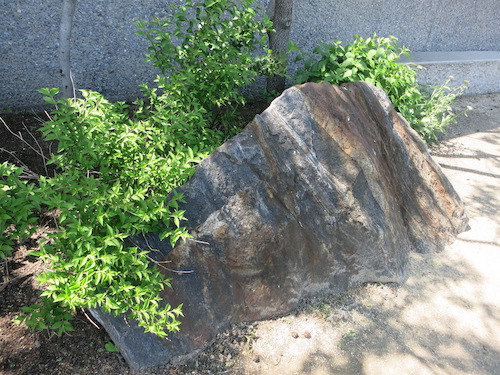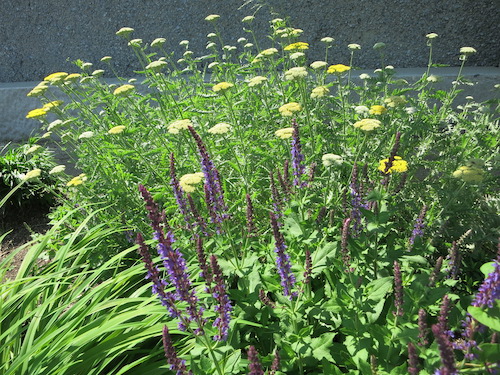 The Newtown Creek Nature Walk isn't gorgeous, and it isn't spectacular. Also, it stretches the definition of "nature walk" almost to transparency. Yet it's one of those places that reminds us of a few important truths about parks.
Especially in a city the size of New York, there's room for an endless variety of interesting ways to preserve or express nature, including transforming industrial spaces and even infrastructure into pleasant outdoor environments. And just as their conceivers and designers had to draw on their creativity to make them, these places can draw out our own imaginations when we visit, expanding our urban world and injecting city life with not just a dose of fresh air, but an added dimension – and an important dimension, at that, because without it our spirits decay.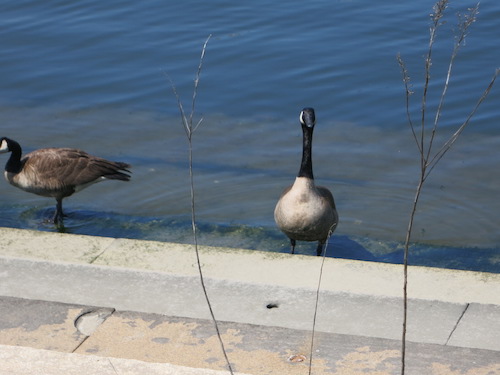 George Trakas at the Water's Edge: Newtown Creek from Urban Omnibus on Vimeo.