Coney Island is so storied, and so copiously documented, that with all the times I've been there I never thought to document it here. But the Parks Department has had jurisdiction over the beach and the historic boardwalk since 1938. That makes it a park!
Around 1938 is also when the boardwalk acquired the name Riegelmann Boardwalk, after the Brooklyn Borough President who began the process of making the whole place open to the public and whipping it into the shape it has today.
This'll be short and sweet – or at least short – because I took these humble Coney Island photos on a quest to find much more obscure – and therefore, to me, more interesting – parkland.
Here's that famous boardwalk, with the Aquarium in the distance on the right and beyond it the rides of the amusement areas.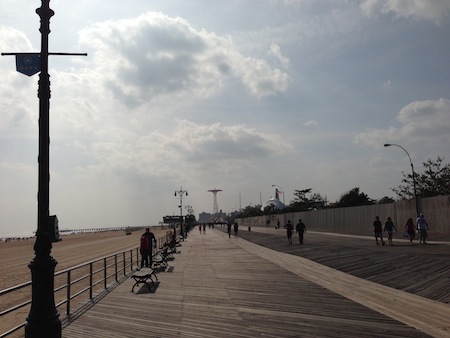 You want beach? Here's some beach.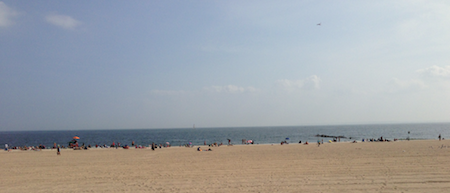 The 2.7-mile-long boardwalk contains 1.3 million boards. You notice damage as you tread them, at least some of which came from Superstorm Sandy. There's talk of replacing the whole shebang with concrete and plastic for greater durability. Controversial, of course.
For now, wooden boards still rule. Follow them east from the amusement parks and you come to the Brighton Beach section, where you hear mostly Russian on the boardwalk as well as the streets. The seaside restaurants in the next photo serve heavy Russian food of middling quality, but you can't beat the location.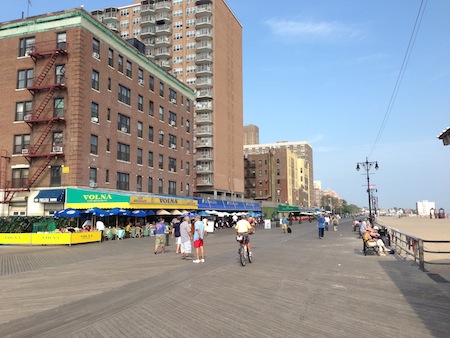 Most people don't follow the Riegelmann Boardwalk all the way to its far east end. So I've done it for you.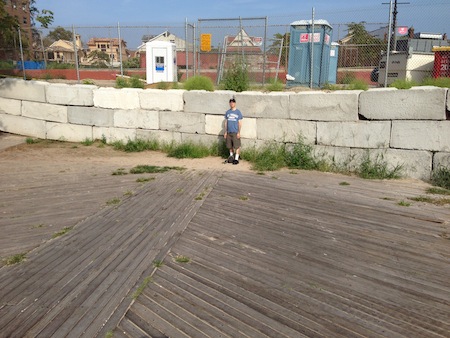 Go elsewhere for blazing images of the Wonder Wheel, the Cyclone, Nathan's (and its hot dog eating contest), the boardwalk bar scene and all the craziness that goes with it, and the fab ballpark where the minor league Cyclones play. Go to other websites to see pictures of the happy beach frolickers and assorted New York eccentrics who give this place its legendary character. But come back here for what's next up: some Coney Island parks the tourists and revelers never see.