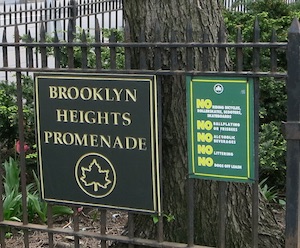 In all the years I lived in Brooklyn, I never took a walk on the Brooklyn Heights Promenade. I can't explain why – maybe I'd seen it in enough movies and TV shows (Annie Hall, Moonstruck, Billions).
I also never realized it counted as a park. But the maple leaf logo on the sign at the northern entrance says it does. And you don't argue with the maple leaf.
This will be just a snippet of a post. I hadn't included the promenade in my planned Brooklyn Heights walk, so I'll have to revisit and walk the whole length. For now, here's a representative sample.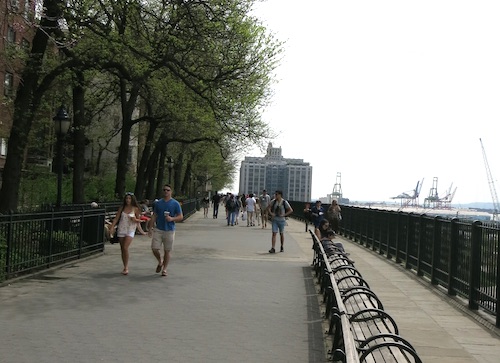 To the left in the photo above: a strip of horticulture (the park proper) and a bit of the classy architecture of the neighborhood.
In the center: people enjoying a warm spring day on the promenade itself, atop the Brooklyn-Queens Expressway. Opened in 1950, the esplanade was built above the highway to shield the neighborhood from the traffic noise. It does a pretty good job. Technically the walkway is owned by the Department of Transportation, but the Parks Department maintains it.
And to the right: the mouth of the East River.
More than anything else, it's the views that draw people here. The Parks Department website reproduces the text of a historic sign which begins, "'There may be finer views than this in the world, but I don't believe it,' said President Abraham Lincoln in 1864, when he exited his carriage on the crest that gives Brooklyn Heights its name."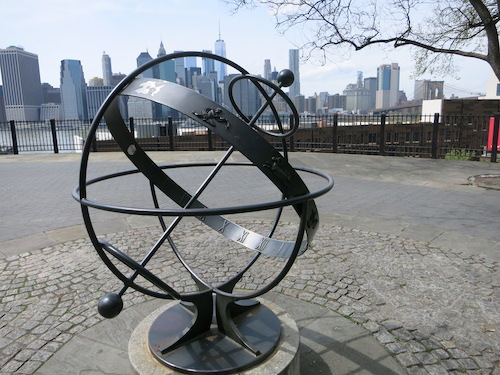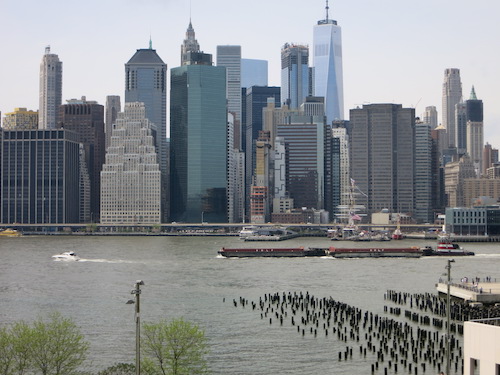 The armillary sundial at the northern terminus was weirdly vandalized some years ago, its Pisces symbol pried off and stolen – and, as the close-up above shows, never replaced.
If it had happened more recently, I might suspect hungry goats. They like fish, right?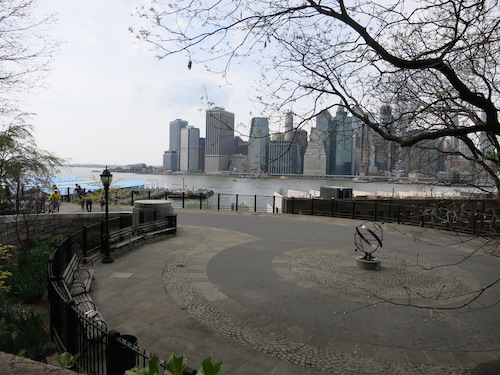 You get a good view of the ever-expanding Brooklyn Bridge Park, too. (That's the Statue of Liberty on the far right.)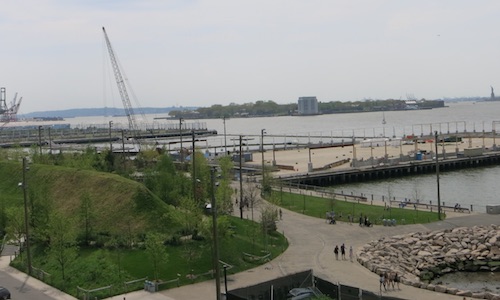 Some modest springtime blooms along the inner fringe caught my eye.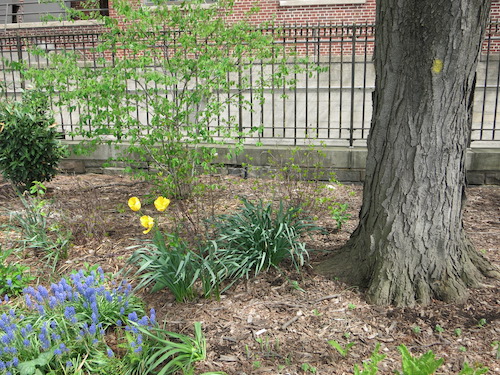 Also at the northern end is the Fruit Street Sitting Area, which looks like an extension of the promenade but has its own name with its own official Parks Department sign complete with maple leaf – the leaf with which (as established above) we don't argue.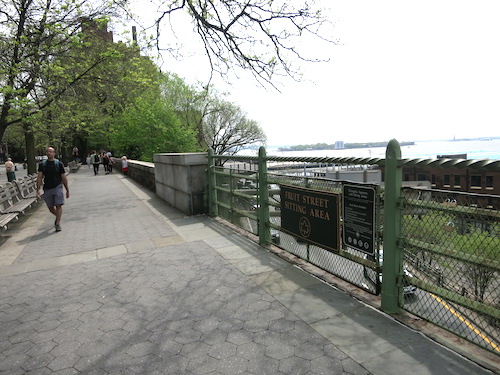 I'll cover the full length of the promenade another day.
All photos © Jon Sobel, Critical Lens Media