In Inwood, Manhattan's far north, you'll find one of the borough's newer green and natural jewels.
Sherman Creek Park and Swindler Cove are, more or less, gifts to the city by Bette Midler (starring in Hello Dolly on Broadway as I write this). Since 1995 her New York Restoration Project has brought (says its website) "private resources to spaces that lack municipal support, fortifying the City's aging infrastructure and creating a healthier environment for those who live in the most densely populated and least green neighborhoods."
The singer-actor has been a fixture in Gotham parkland and beautification for a long time. The highway-cleaning gag from the fourth season of The Simpsons was inspired by a real sign I used to see on the West Side Highway.
There's not much to the Sherman Creek part of the park. The eye candy is all in Swindler Cove (photos below). Following the Sherman Creek sign takes you down a pleasant wood-chip path with a view of the water, and that's pretty much it.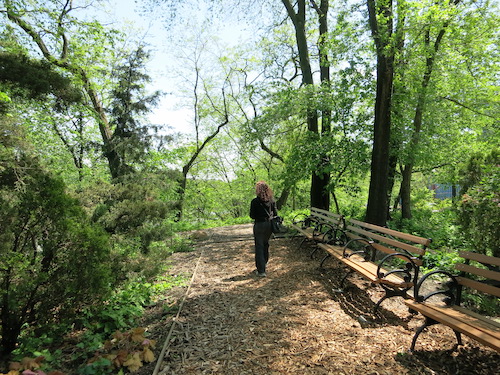 There's actually no sign of a creek. But if you look at the legendary Viele Map from 1865, you can see a number of creeks emptying into the Harlem River from upper Manhattan. (In the image below, north is to the right.)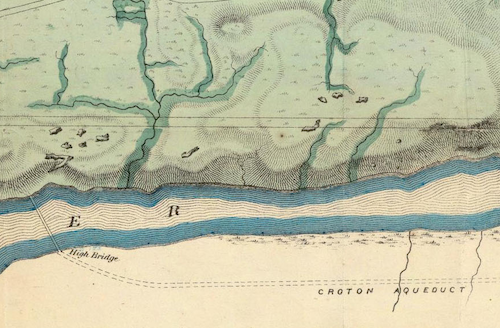 Glimpsed through the trees, the water looks peaceful, if not pristine.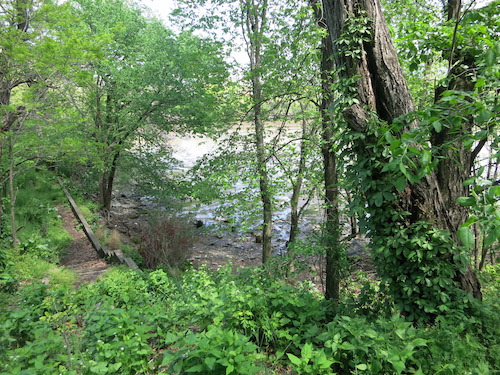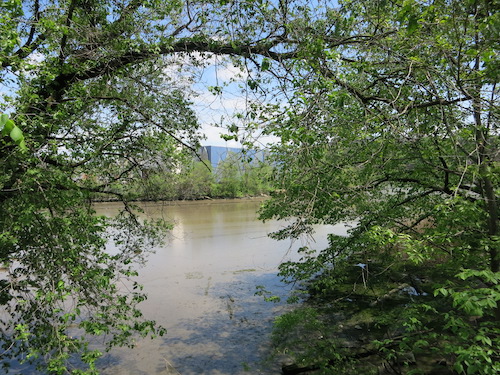 Forgotten NY in a post from 2013 tells us that the "creek" is actually just the inlet here, originally called Half Kill, and that a few years ago it appeared as "a yacht graveyard full of discarded ketches and pleasure boats."
This may be the place in question today: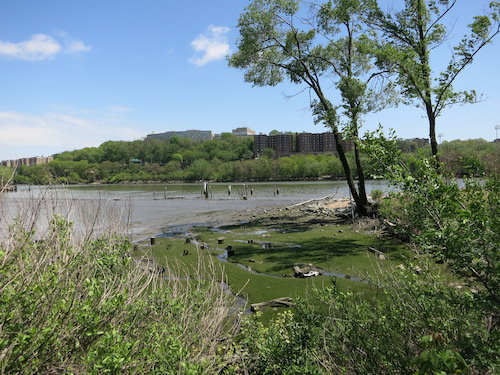 It seems some design or restoration work is still going on.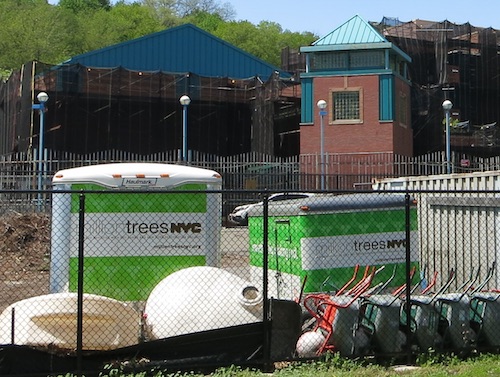 There's a bit of beach hidden away here too. Curbed has a photo in a post from 2012.
Sherman Creek and nearby Sherman Avenue are named for a family of relatively obscure local settlers. Even a website devoted to the street names of Inwood says only that they "lived on the south side of the small bay also named for them" – in other words, on the inlet that we call a creek. (If there was never a real creek here, maybe the Sherman family wished they had one; maybe their motto was "It's all creek to me.")
Swindler Cove, or Swindler Cove Park, is marked as "a cooperative effort of the State of New York Department of Transportation, the City of New York Parks and Recreation, and the New York Restoration Project." A plaque reads, "These trees were planted by the New York Restoration Project, a nonprofit founded by Bette Midler and dedicated to revitalizing underserved parks and open space in New York City."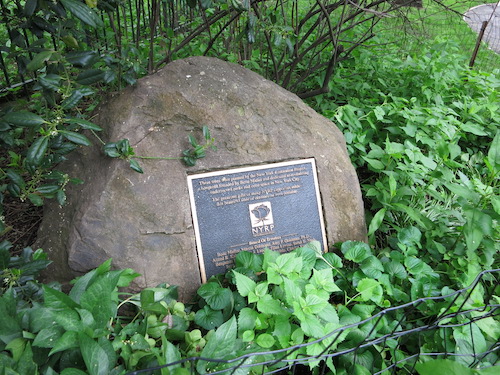 The Riley-Levin Children's Garden was in its springtime splendor on our recent visit – and free of children. (Unless "children's garden" really means a place where children are grown, in which case maybe the shoots just haven't emerged yet.)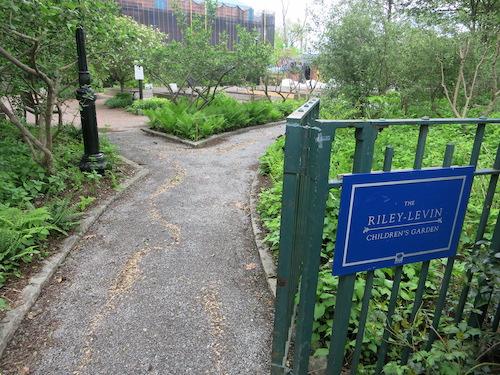 The park itself in May is green as green can be.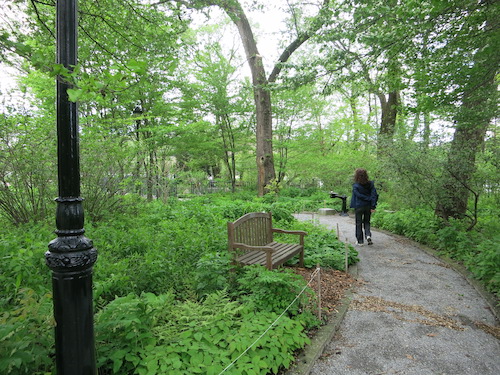 Coming upon the bucolic pond with its rushes and turtles can be a shock. There are beautiful places like this in more famous city spots, like Central Park. But they're always crowded with people. Here we encountered almost nobody – just a caretaker and one or two other wanderers.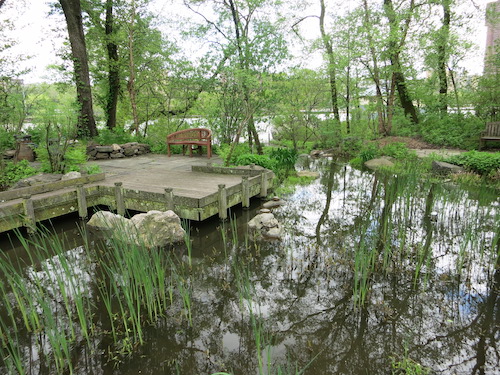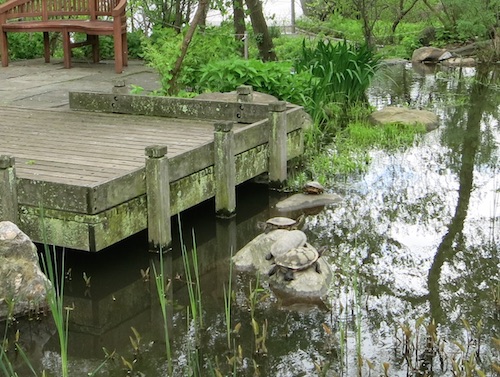 Catching sight of an American Goldfinch on a water fountain was a treat.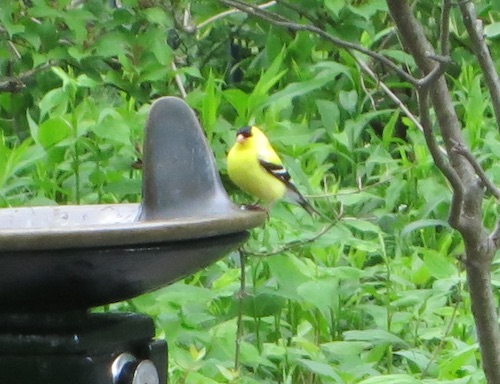 A path winds down to the waterfront past a small artificial waterfall.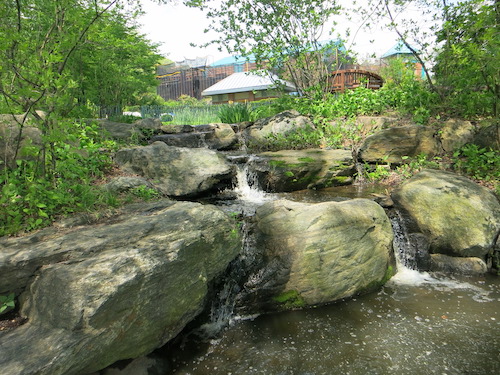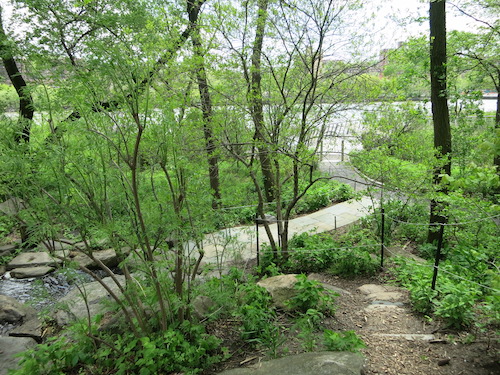 And there, floating in the river, is Swindler Cove's final surprise: The Peter Jay Sharp boathouse, another New York Restoration Project effort and home of Row New York, one of whose enthusiastic instructors intercepted us as we wandered ignorantly towards the building and took us on a tour.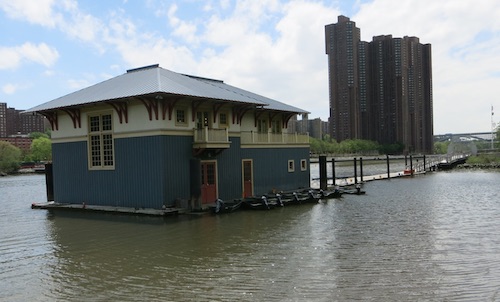 Sharp was a hotelier, real estate developer, and one-time chairman of the New York City Opera who died in 1992. Countless New York theatergoers know his name from the performance spaces named for him, but how many know about the boathouse? We sure didn't, though it's been in operation since 2004. There's even a regatta named after Sharp.
Forgotten NY tells us the boathouse was constructed by Robert A.M. Stern Architects and "designed to resemble the Central Park Dairy with board and batten styling."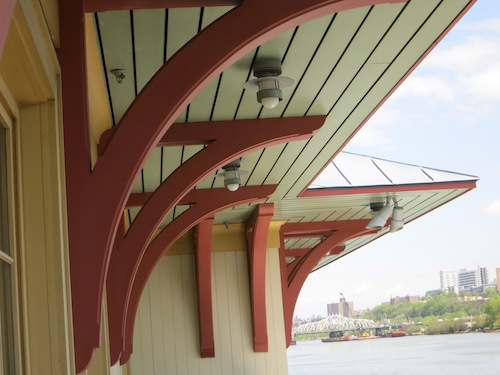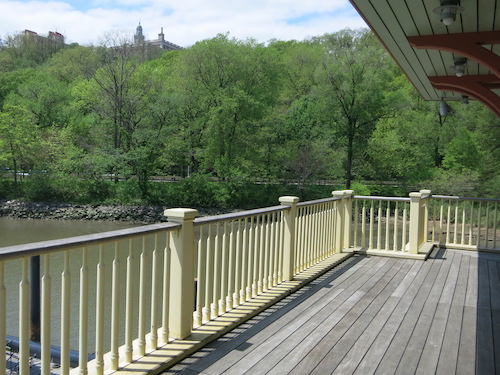 This isn't "gently down the stream" rowing. This is crew. Children and college students alike learn here.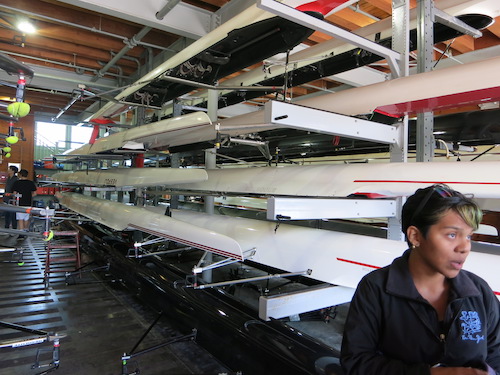 The environs aren't as picturesque as the Charles River, but Ivy Leaguers practice the distinguished old sport here too. A few of the kids we saw might end up rowing for Columbia in a few years.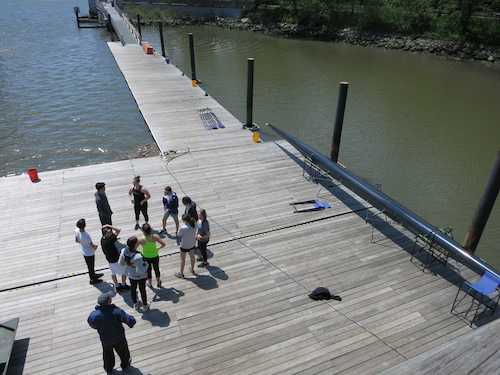 All photos © Jon Sobel, Critical Lens Media