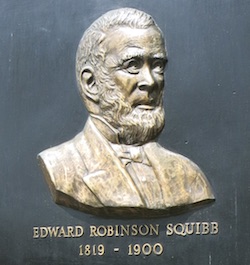 Squibb Park, a playground in Brooklyn Heights by the Brooklyn-Queens Expressway, merits mention here because of the Squibb Park Bridge, an unusual walkway from the Heights down to Brooklyn Bridge Park and the waterfront.
Edward Robinson Squibb, a naval surgeon and pharmaceutical chemist, founded Squibb Pharmaceuticals, later known as Bristol-Myers Squibb, in 1858. Known for pushing for higher standards of purity in the pharmaceutical industry, the Brooklyn Heights resident built his first laboratories near the park that bears his name. He lived on Middagh Street, and today if you walk to the western end of Middagh and keep going you'll tumble straight into the park.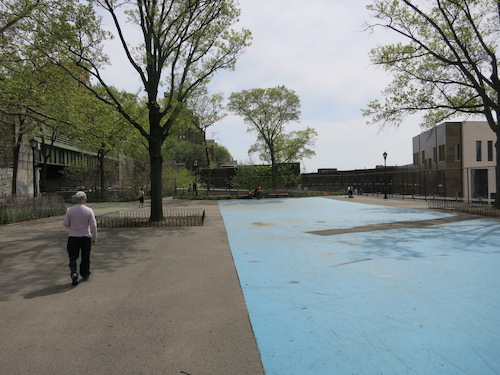 It's supposed to be a playground, with, according to the Parks Department website, "the uniform apparatus which characterizes the era of its construction [the 1940s]: swings, jungle gym, sand box, sprinklers, basketball court." But right now Squibb Park is a big blue nothing.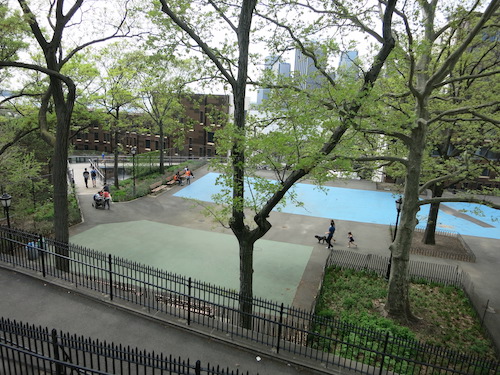 The ingress and egress are what hold interest.
The stairway that leads down into the park zigzags along a handsome wall of stone blocks.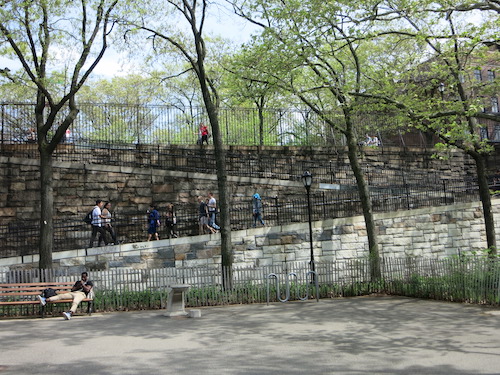 And then there's the Squibb Park Bridge, a modern footbridge of black locust timber, bronze and galvanized steel that opened in 2013 but shut down shortly thereafter because of too much bouncing. After structural modifications, it reopened in April 2017.
Its upper stretch offers a cramped view of lower Manhattan and One World Trade Center.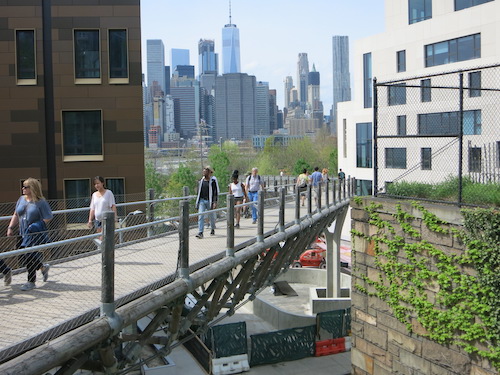 As you descend into greenery towards Brooklyn Bridge Park, a view of the Brooklyn Bridge itself appears.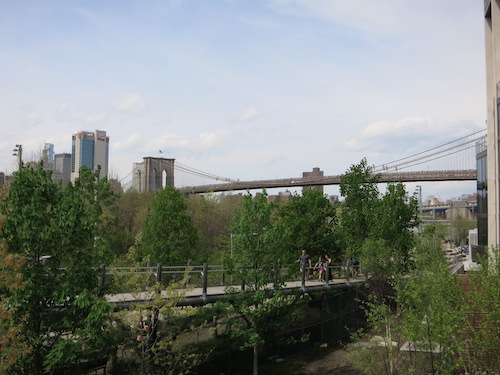 This is New York City, so of course there's also a construction site. But somehow the building doesn't look very New York.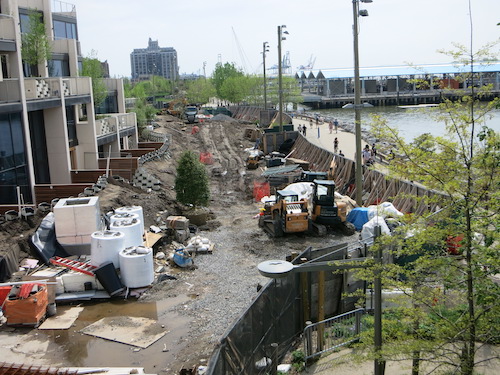 I hope they don't snip away the overhanging branches near the bottom of the bridge. On a hot sunny day it feels like a touch of the tropics.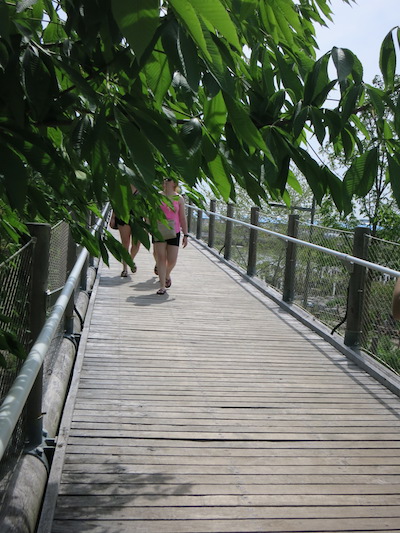 I've read that a case was made against the bridge, that because it wouldn't be the only way down to the waterfront, or even much faster than what already existed, why build it? The surrounding buildings cut off much of the views, too.
That, to me, is an argument for precisely the opposite. We need things that aren't strictly necessary, that are even fanciful. And things that are just plain fun as well as practical. Like the slides that get you down the steep slopes of Valparaiso, Chile.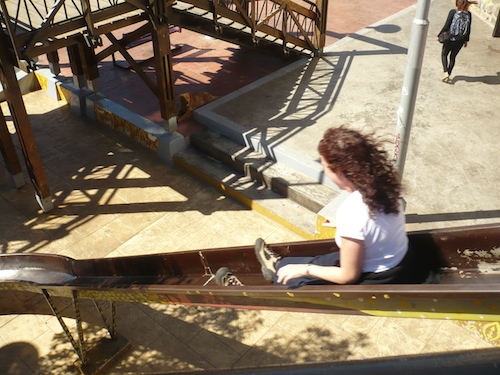 Because we all need to get down once in a while, don't we?
All photos © Jon Sobel, Critical Lens Media