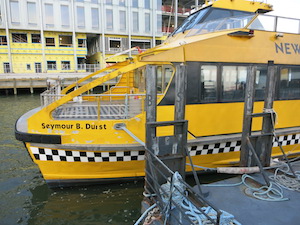 A New York City Audubon Sunset EcoCruise was a great opportunity to get a closer-than-usual look at North and South Brother Islands in the upper reaches of the East River. Located between The Bronx, Rikers Island, and Queens, both are now bird and wildlife sanctuaries under the jurisdiction of the Parks Department.
Setting out from South Street Seaport in a New York Water Taxi boat, we motored north, under the Brooklyn Bridge (pictured below), the Manhattan Bridge, and the Williamsburg Bridge.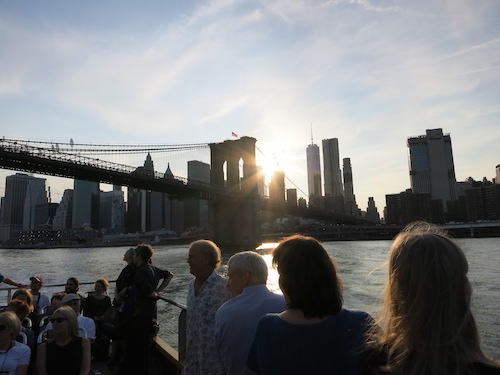 We got a good look at the new high-rises in Long Island City, Queens. The Pepsi-Cola sign on the far left was just landmarked by the city after years of whining. It's right by Gantry Plaza State Park.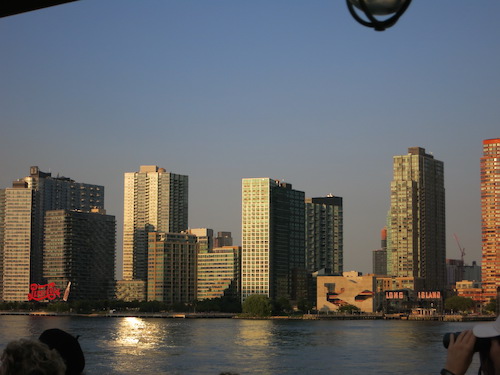 The first island we passed was tiny U Thant Island (officially Belmont Island), named after the former United Nations Secretary General. This artificial island made of landfill from an early subway tunnel is home this summer to gaggles of birds, mostly cormorants but also some great black-backed gulls.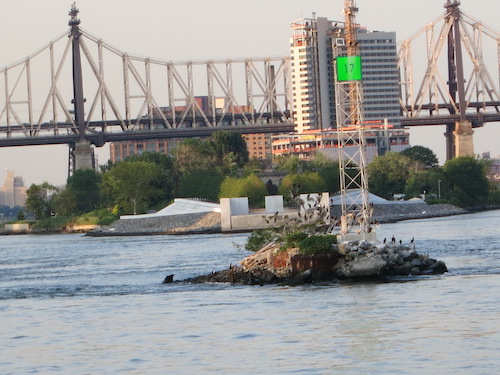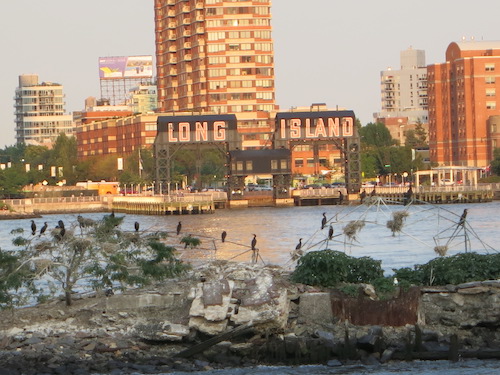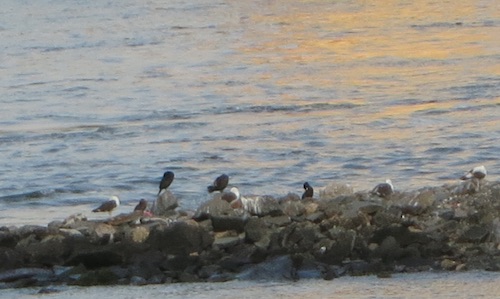 The real excitement was in the air. According to our guide, New York City has 16 pairs of peregrine falcons, more than any other place in the world. When diving for prey, they're the fastest animal in the world. I think this is a family of them: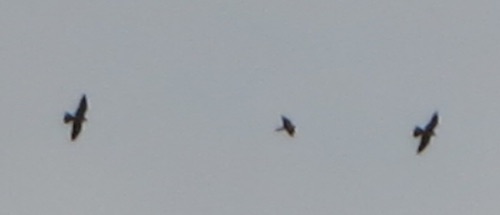 Also in the sky: the Roosevelt Island tram.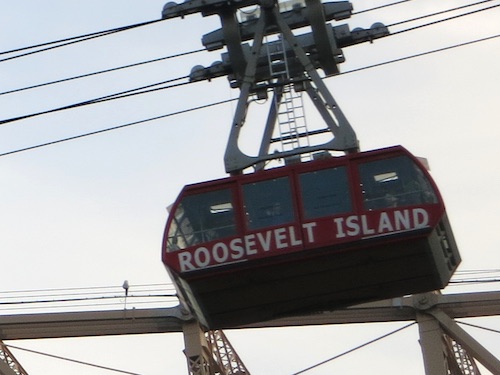 Mill Rock was a perch for lots more cormorants. We also saw two kinds of egrets: great egrets and snowy egrets. This, I think, is a great egret.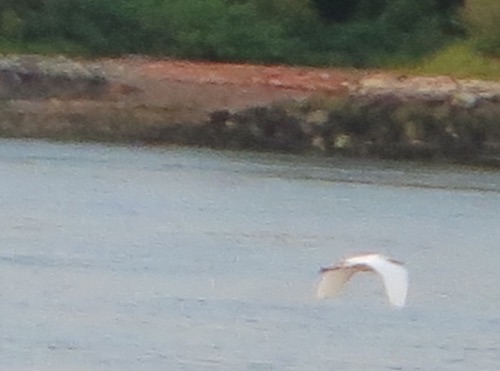 I lost track of all the species we saw – at least a dozen. They included fish crows, grackles, and ospreys.
I don't recall what our guide identified these as: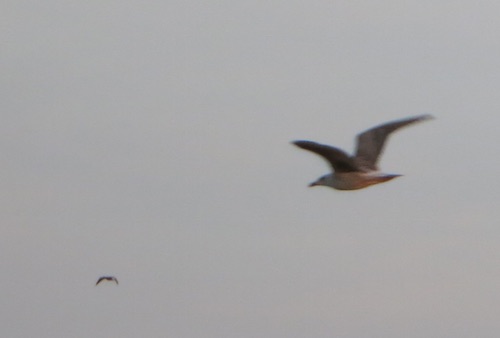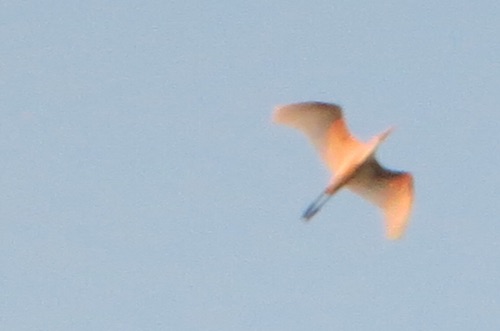 The sun was truly setting as we approached North and South Brother Islands.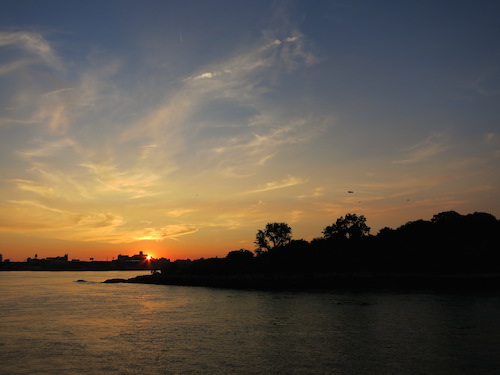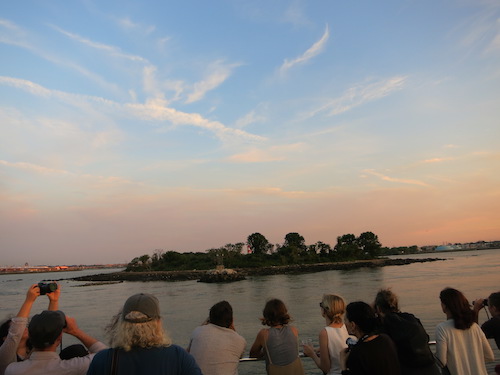 North Brother Island is best known as the location of the old Riverside Hospital. Smallpox victims and others, most famously Typhoid Mary (who wasn't sick, just a carrier, but refused to believe it and behave appropriately), were quarantined on the island for many years. The buildings are now in ruins, the island off-limits to human visitors.
On one of the ruins, our guide was very excited to spot a previously unknown osprey nest.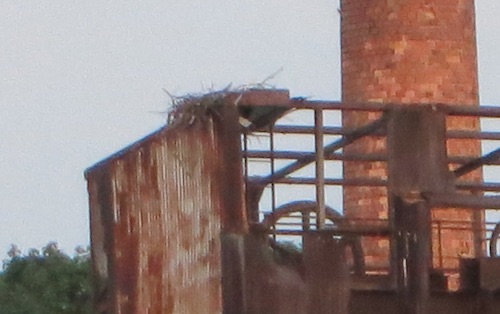 The osprey family, two adults and a juvenile, were flying about very fast. This was the only shot I was able to get of one of them. A peregrine falcon was buzzing about, too, harassing the larger ospreys. Apparently birds of prey of different species don't really get along.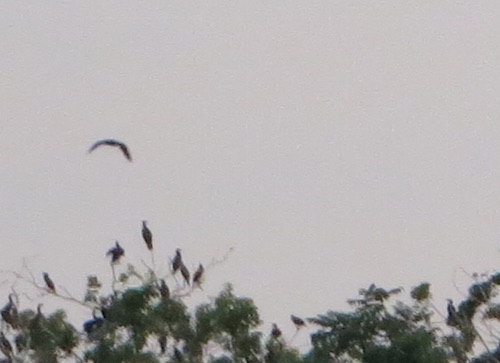 You can also find listings for the Audubon EcoCruises at the New York Water Taxi website. But since New York Water Taxi failed in its bid to run the new ferry service Mayor DiBlasio recently announced, the service's future in the city seems uncertain. Here's hoping it stays in business here and keeps making its boats available to Audubon – or failing that, that someone else steps in.
All photos © Jon Sobel, Critical Lens Media