Regular readers know that this blog project isn't only about parks administered by the New York City Department of Parks and Recreation. My intention is to visit every park within the city limits, whether it's a city park, a state park, a private park, or anything else. All it has to do to count as a park for my purposes is have a name, be bigger than a traffic island, and offer "passive recreation" (that is, it can't be just playgrounds or playing fields).
Though the vast majority of the places I document are New York City parks, two of the parks I recently visited in Red Hook, Brooklyn fall under the rough rubric "private park." I've already described Erie Basin Park, which was created along the water by Ikea when that giant box landed on and blew away the old Todd Shipyard. The second private park, and the final stop on this Red Hook mini-odyssey, is another waterside park hidden away behind a big store: Pier 44 Waterfront Garden, a grassy area nestled picturesquely beside Fairway Market's overflow parking lot.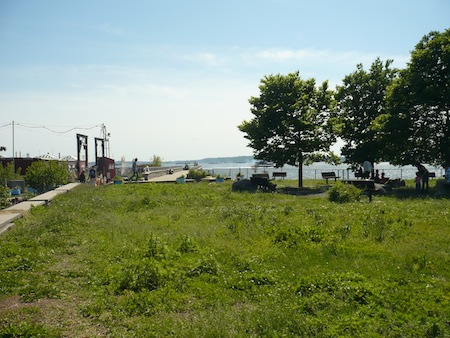 Opened in 2004 with funding from local developer Greg O'Connell, the Garden is the docking station of the quirky Waterfront Museum, a preserved 1914 barge that's worth a visit on its own.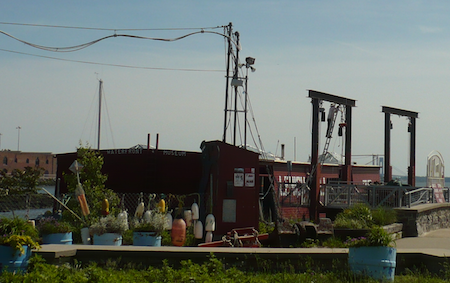 But its waterside setting and sense of peace give the park its own raison d'être.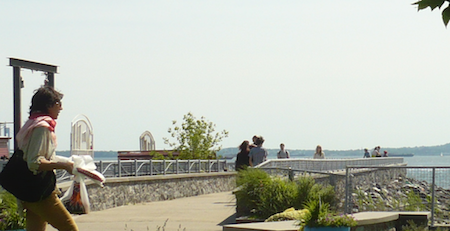 A Curbed essay reported last fall that the park didn't appear on Google Maps,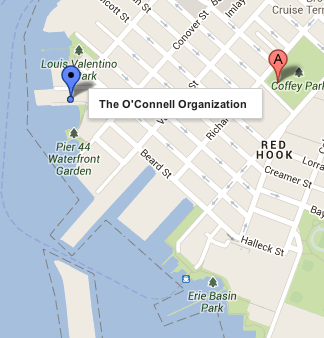 but if it didn't then, it does now. Sooner or later Google gets everywhere, doesn't it? (Usually sooner.)
Someone else who seems to get everywhere, at least in this neighborhood, is our friend Greg O'Connell, the developer. Just now I did a Google search for "red hook brooklyn." Look at what (who) popped up when I moused over the pin on the resulting map. Coincidence? (I hadn't even posted this yet.) Or is Google reading our thoughts? Resistance is futile…
We took the water taxi back to Manhattan from the adjacent Fairway Market dock, but not before one final adventure. As the ferry pulled in and unloaded its passengers, one crew member disembarked to wrangle the people waiting to board. All of a sudden the boat backed away from the dock and started heading back across the river, leaving its crewman behind.
After a minute or two, and lots of yelling, the pilot realized his or her mistake and came back for us. Never a dull moment on the high seas of Gotham!