Just when I think I know all the parks in Manhattan, suddenly a shady grove crops up and proves me wrong.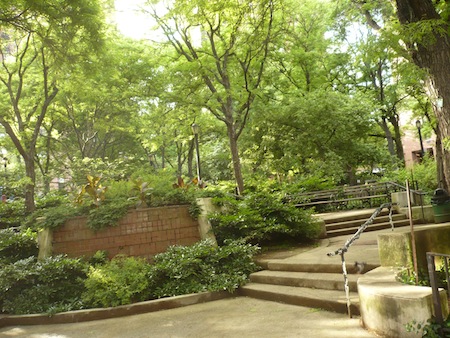 Colonel Jacob Ruppert was a congressman, brewer, and co-owner of the New York Yankees. In 1919 he and a partner bought the Astor estate in the Bronx and proceeded to build Yankee stadium there. They were also responsible for buying Babe Ruth's contract from the Red Sox. Safe to say Ruppert was into some pretty historic stuff nearly a century ago.
But where his name really lingers is at Ruppert Park, which sits in Yorkville on the Upper East Side, right where Ruppert's father established the Jacob Ruppert Brewing Company just after the Civil War.
The "Germanity" of this formerly German-American neighborhood has dwindled to little more than a few business and place names, "Ruppert" being one. The park was created adjacent to the Ruppert/Yorkville Towers back in 1978-79 under pressure from the community. The Parks Department took over and improved the park in 1997, and today it's a small and rather lonely but very appealing green beacon in a sea of high-rises, in spite of the controversial loss not long ago of one of its playground areas to further high-rise development.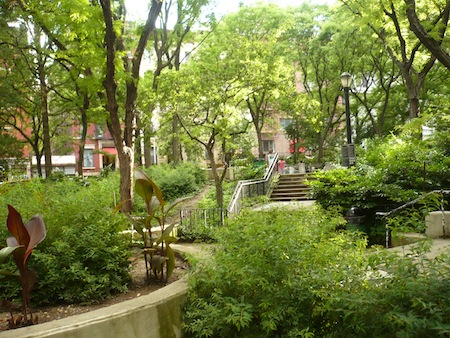 In fact, Ruppert Park is so dense with trees that Google's satellite view provides no clue that it houses playgrounds, non-trivial terrain, landscaping, and a fountain. In June all you see from above is the dense green of the trees. But inside this city grove you can sit and contemplate, walk, and with some imagination even do a miniature wander.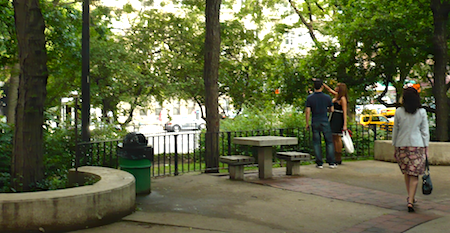 Outside the park I found an unexpected avenue (in the old sense of the word meaning a way lined by trees) between Second and Third Avenues, a good way to extend your untroubled-by-traffic walk if you so desire.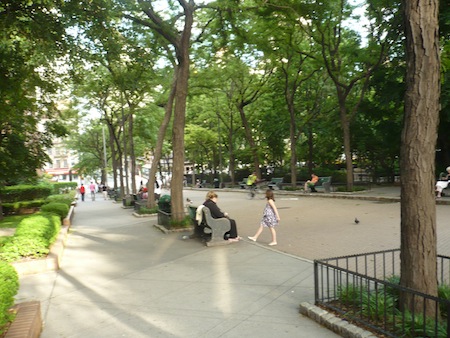 Back in 1991 this peaceful, pedestrian-only block of 91st Street was named "James Cagney Place." I haven't discovered why, unless it has to do with the coincidence of Ruppert's association with the Yankees and Cagney's famous portrayal of George M. Cohan in Yankee Doodle Dandy, which seems pretty far-fetched. If anyone knows, please leave a comment below. Cagney was a New Yorker through and through, but didn't have ties to this neighborhood that I know of.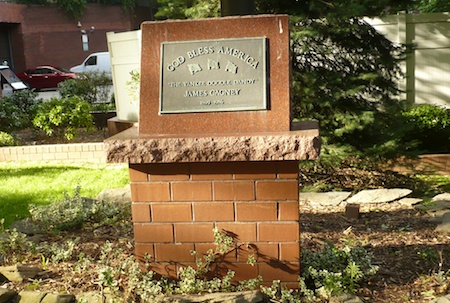 He does now.