The high point of our recent mini-odyssey through Red Hook was a sweet waterfront spot called Louis Valentino, Jr. Park and Pier, named for a firefighter who died in the line of duty in 1996. The spot has been a city park since 1999, but known to me only since May 2013, and I'm glad I made its acquaintance.
Historic buildings from the time of the shipping industry have their own picturesque quality.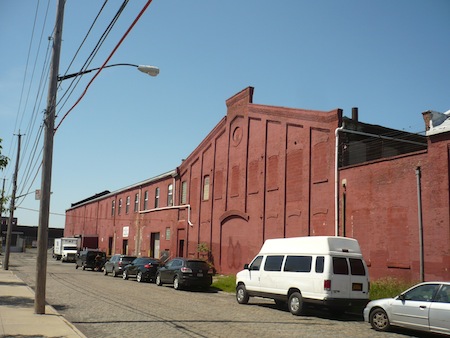 Back in the 1920s, according to Wikipedia, Red Hook was "the busiest freight port in the world." According to the same entry, though, in 1990 LIFE named the neighborhood "the crack capital of America."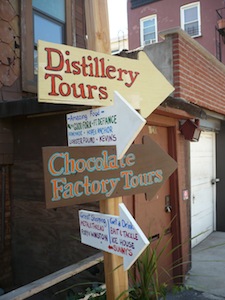 How things do change. And change again. Walking around Red Hook today, you could almost think you're in a hipster tourist town. Follow the signs to the artisanal fun!
In Louis Valentino, Jr. Park is another kind of sign, a historical one that tells us about General George Washington's Fort Defiance, which was located on a nearby island. That garrison didn't have a long life, of course, since the British occupied New York City in late 1776. Still, General Nathanael Greene (one of the Continental Army's few real generals of distinction) called it "a post of vast importance."
Gunfire from the fort's three island redoubts did cause damage to British ships, though the sign indulges in what smacks of hyperbole when it lauds their efforts as "enabling the Americans to escape and fight again, ultimately defeating the British and securing independence." Still, I'm perfectly willing to grant the history-conscious Parks Department marketing team some leeway in expressing their pride in New York City's too-often-forgotten importance in the Revolutionary War. A final note on the fort: though it is centuries gone, we ended our excursion a little later at a local house of food and mixology called Fort Defiance. Bottoms up!
There's no island now; I suppose it has since sunk beneath the waves like Atlantis. But there's nice landscaping: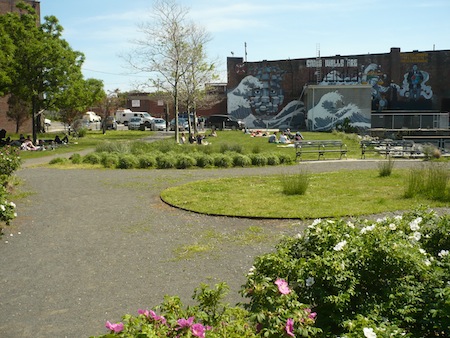 And the main attraction: the pier itself, with views of islands that still do exist, like Governor's Island and Liberty Island. And Manhattan Island.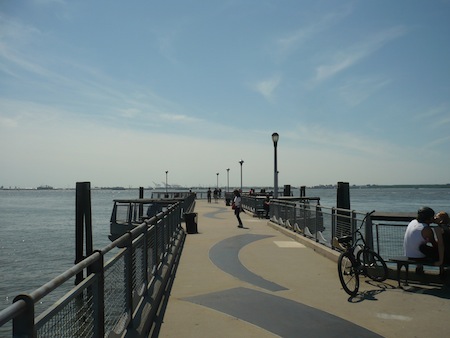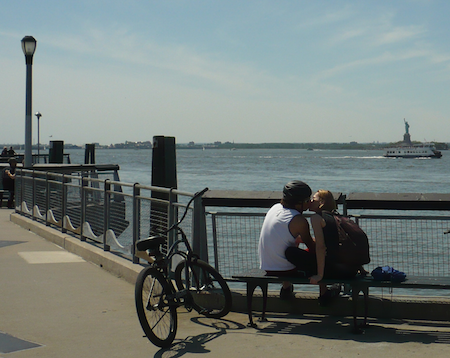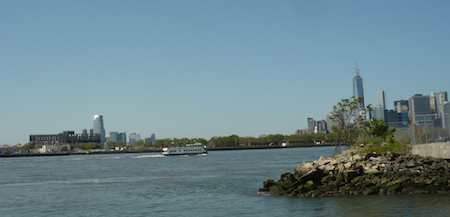 Looking back from the pier you can see playfully jumbled giant cement blocks – jumbled on purpose, I assume – for kids to play on (look to the far right) and residents to gaze at as they reflect on how cool they are for living in Red Hook, the Land the Subway Forgot.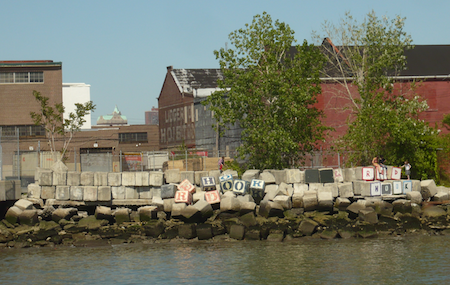 Finally, there's the "beach." "No diving," warns yet another sign as you set foot on the pier. 'Nuff said.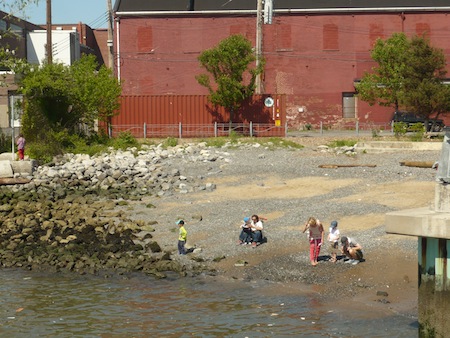 We visited yet one more Red Hook park on this day before adventuring back across the deep, so stay tuned for the final installment.