After discovering the curious sidewalk plantings known as Mannahatta Park on our way to the free-on-weekends Water Taxi off Wall Street, we boarded for Brooklyn. A look back provided a good view of the lower Manhattan skyline…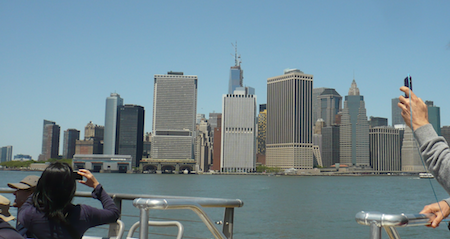 …while a look forward as we approached our first stop showed us the waterside flank of the recently reopened Fairway supermarket, which features long-ago-decommissioned trolley cars languishing picturesquely by the water.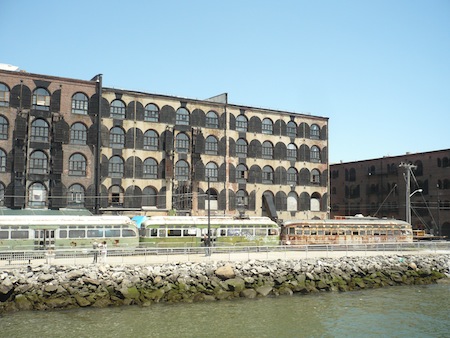 Docking here made me wonder at the whole idea of taking a ferry to a supermarket. In New York City, no less.
It is Ikea, though, that sponsors the line, which makes a lot more sense, as nothing the size of an Ikea store could be built in Manhattan. Overcoming a lot of local opposition, the store went up in 2008, after obliterating the Todd Shipyard which, as described in this Curbed photo essay, was an active repair facility that dated back to the Civil War.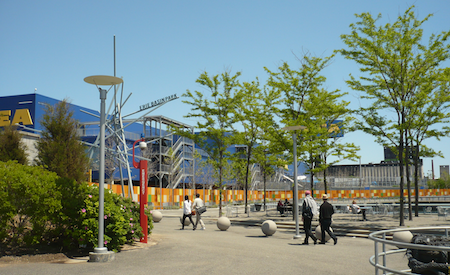 And around the fringes of its parking lots, along the waterfront, Ikea created Erie Basin Park, a ribbon of pavement with semi-secluded seating areas and displays of artifacts from the site's industrial past.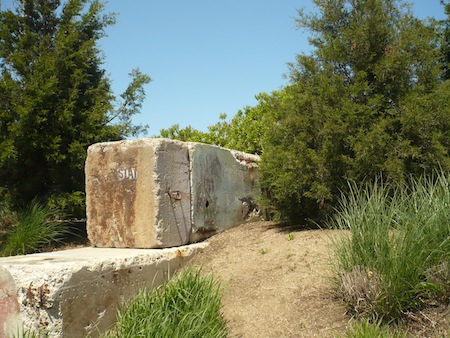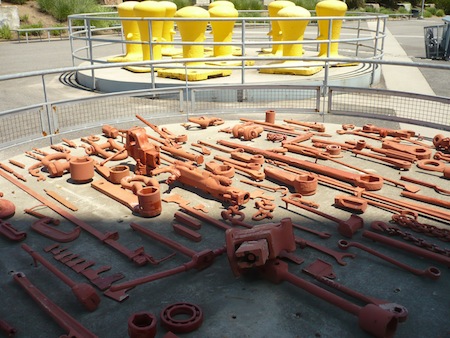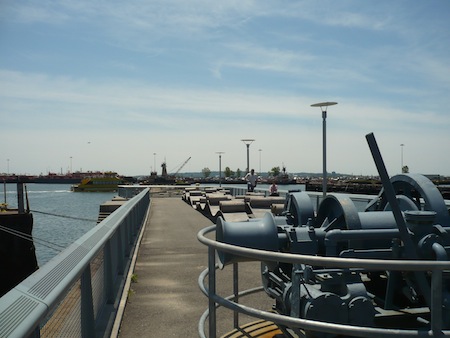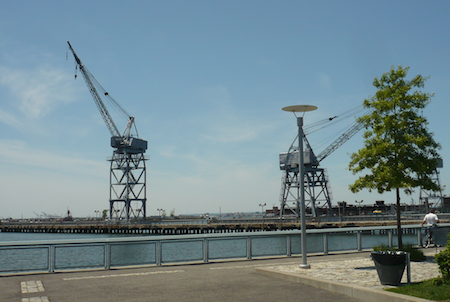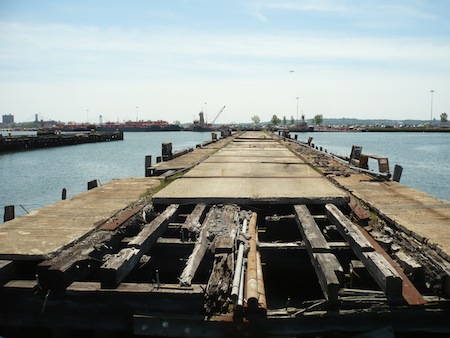 I didn't see the torrents of litter, discarded condoms, or misbehaving teenagers the Curbed article complained of; everything was clean and quiet. Creepily quiet, in fact. It was Memorial Day, and I was in a park on the waterfront. Behind me, hundreds of people, if not thousands, were shopping at Ikea. But practically no one was venturing into Erie Basin Park. Which suited me just fine.
I remember years ago spending a few hours in Sunny's Bar, one of Red Hook's longest-surviving businesses, looking through the anti-Ikea literature scattered through it. Those protests were no more successful than the anti-Atlantic Yards forces that centered in another bar, the much-lamented old Freddy's, since stamped out by the Barclays Center development (and reopened in another location). I wonder what the denizens of Red Hook – the old hands, and the newcomers – think now. Has Ikea put the neighborhood back on the map? Or is it the destructive blight we were warned of?
From here we headed to Red Hook Park, the next target on this Park Odyssey and a food destination too.