I freely admit I didn't know there was a Queens Botanical Garden until a couple of weeks ago. I was looking at a Google map to see how to get to Flushing Meadows Corona Park by subway, and there it was, just off the big park's eastern border: a botanical garden of Queens' own. Naturally, a visit was in order, and it became the first stop on our Cinco de Mayo visit to what is popularly known as the most ethnically diverse county in the nation.
A day that unfolded into a celebration rooted in Mexican heritage actually began with a very slow walk through the packed sidewalks of the heart of Flushing's Chinatown.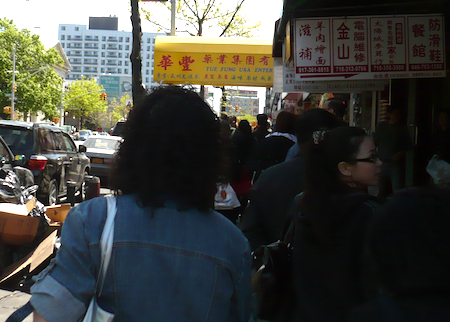 After we charged our batteries on some doughy Chinatown snack foods…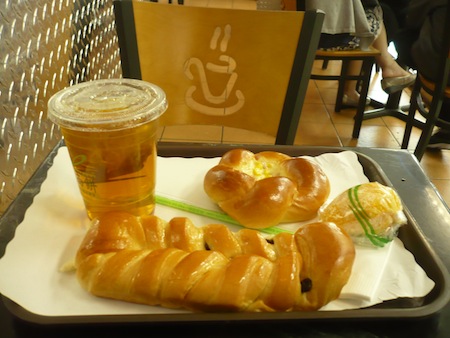 …we arrived at the Promised Land.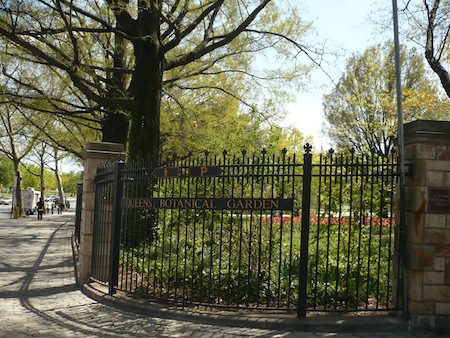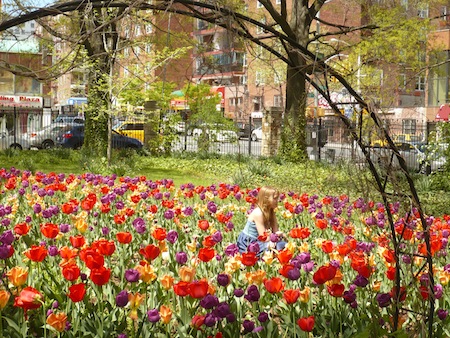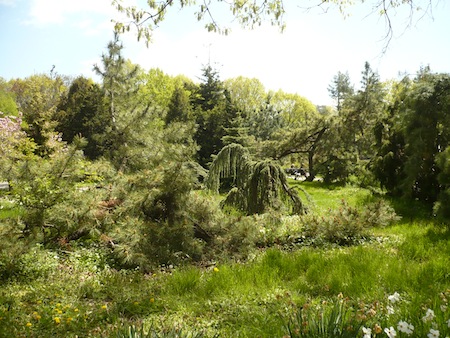 The QBG doesn't have the size, the grandeur, or the fame of its Bronx and Brooklyn brethren, but it's got spring colors, and trees with character.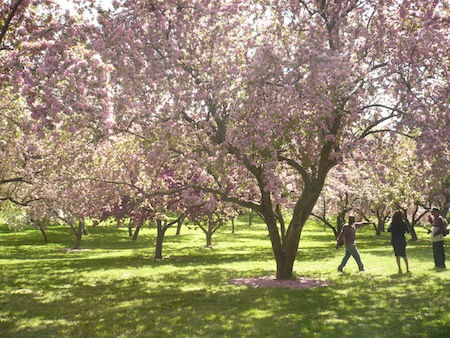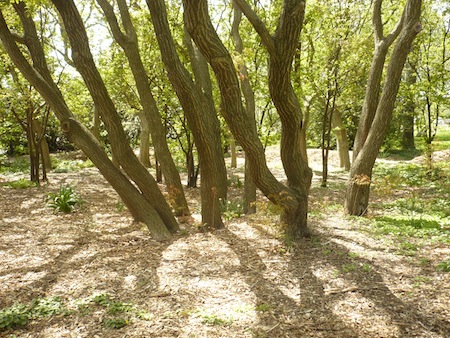 The origin of the QBT lies in a "Gardens on Parade" exhibit created for the 1939 World's Fair,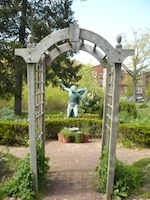 which was preserved and then, in preparation for the 1964 Fair, moved to its present 39-acre site east of Flushing Meadows. The open, western part retains an "unfinished" quality (though additional landscaping and development are planned) that contrasts with the tight cluster of gardens near the Main Street entrance. The latter include bee, herb, rose, and vegetable gardens along with a beautifully landscaped area called – no beating around the botanical bush in Queens – the Wedding Garden.
One thing I've never seen anywhere else is a Parking Garden.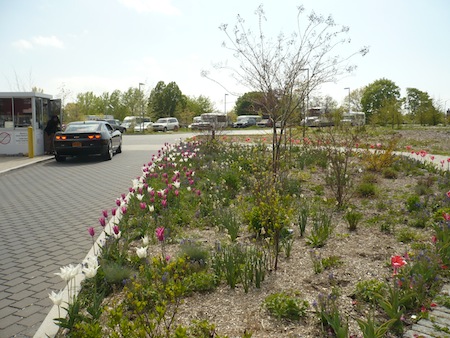 When we first saw this on the QBG map I thought it might just be a botanical-garden joke, akin to calling your toilet a "porcelain throne," but no: It's a parking lot that uses "innovative building techniques and materials to manage storm water on site, conserve electricity, and reduce our global footprint by fighting urban heat island effect." (That's according to an informational video on the QBG website.) I don't know if it works, but if you've ever returned to the city late on a summer day after spending most of it somewhere closer to nature, you may have noticed "urban heat island effect."
This is a pretty good place to escape anything like that.