You can walk on the gravestone of Daniel D. Tompkins (1774 – 1825) – financier, patriot, Governor of New York State, and Vice President under James Monroe – outside St. Mark's Church in-the-Bowery in Manhattan.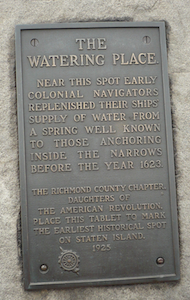 I've done that. You can visit the park named for him, Tompkins Square Park, once an anarchists' playground, now a peaceful East Village oasis. I've done that. And you can still fail to realize that the Tompkinsville neighborhood of Staten Island, too, is named for Daniel D. Tompkins. I've done that also.
In 1815 Tompkins founded the settlement that became the neighborhood that bears his name. Much later, according to the Parks Department website, in 1932, during the reign of Parks Commissioner Robert Moses, the park in the heart of the neighborhood was officially dedicated to Tompkins. But the history of the site goes much further back, to the early 17th century, when it was the site of a spring known to colonial navigators, as the plaque pictured explains.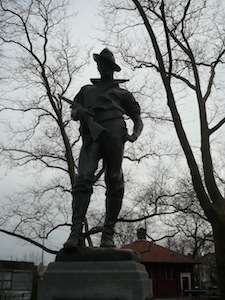 Now, there's the genesis of things, and then there's the physical presence. In Tompkinsville Park, the main item of note is the Hiker statue honoring the local soldiers who fought – not in the First World War, as with so many statues in New York City parks – but in the Spanish-American War and the Philippine-American War, where soldiers trekking through steamy jungles were nicknamed "hikers." This particular cast of Allen G. Newman's sculpture hiked here from another location, and for this I just have to quote the Parks Department website again:
The Hiker in Tompkinsville Park was the official monument of the United Spanish War Veterans and was located in front of Staten Island Borough Hall. The statue was moved to Tompkinsville Park in 1925 after a series of cars hit the statue.
You just can't make that stuff up.
Otherwise, the park is pleasant but not remarkable. It had a major renovation in 2007. Must have been pretty run-down before. In any case, much like nearby Tappen Park, which I visited on the same expedition, it's the kind of neighborhood green space that provides an essential break from the hard sprawl of buildings and pavement. I don't think Daniel D. Tompkins is turning over in that grave of his across the river.