Readers might be excused if they thought that I neglect Staten Island, New York City's oft-forgotten borough. If that has been the case, I hereby declare it no longer to be so. Richmond County has lots of great parks and open spaces, not to mention a Greenbelt, and I have visited a number of them, but alas, that was before starting this project.
To them I shall return, but the first Staten Island entry on this blog goes to humble Tappen Park, which I discovered on an excursion to eat lunch at Lakruwana, a celebrated Sri Lankan restaurant in the Stapleton neighborhood. And in itself, Tappen is something like the quintessential neighborhood park, with a fountain, a gazebo, London plane trees (of course, because this is New York City), places to sit, and paths to amble on (but amble slowly or you'll rapidly run out of amble).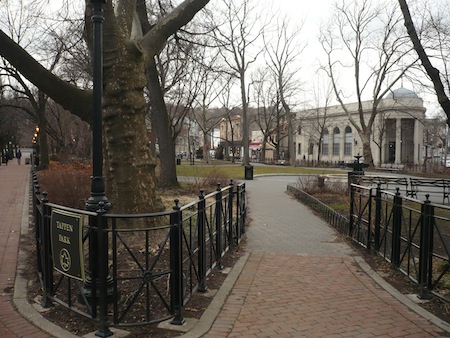 The park dates from 1867. In olden times the place was called Washington Square, not to be confused with the much more famous Washington Square in Manhattan, which has retained its name (rather than being rechristened something like "NYU Plaza"). Then it was Stapleton Park. It became Tappen Park in 1934 honoring James J. Tappen, a soldier killed in France in World War I.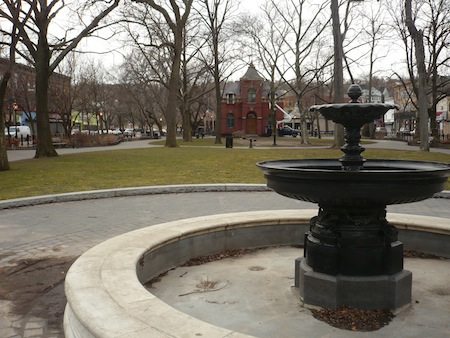 The pretty lamps hanging about the park are worth a look. But the remarkable thing about Tappen Park is the presence of the old Edgewater Village Hall, a beautiful Romanesque Revival building built in 1889, which together with the park merits a place in the National Register of Historic Places. (Edgewater, needless to say, vanished long ago amid the agglomeration of New York City. If you really want an Edgewater, there's still one in New Jersey.)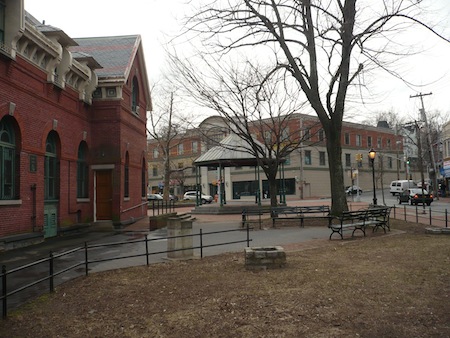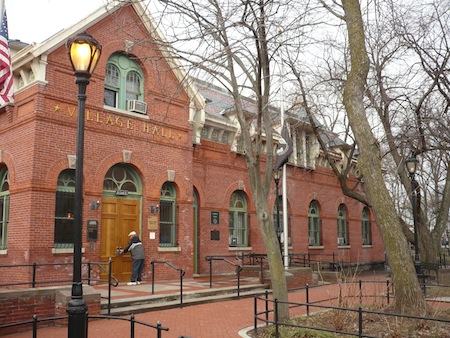 Here's a detail showing the arched windows and doors, the brickwork, and other architectural elements whose names I can never keep straight.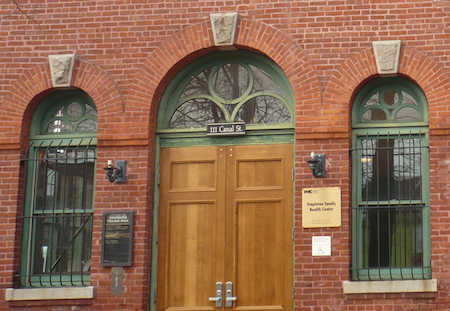 So go and admire. (And while you're there, grab a meal at
Lakruwana
.)