Franklin D. Roosevelt Four Freedoms Park, a memorial to the former president, opened on the southern tip of Roosevelt Island in 2012. It's not a city park but a state park, and not a park of trees and dirt but of cold angular hardness, designed by architect Louis I. Kahn. Kahn died way back in 1974, but much as Jimi Hendrix puts out new albums four decades after his death, Kahn has had an old design realized long after his.
I visited on the same snowy day I walked through adjoining Southpoint Park, the somewhat misnamed park you walk through on your way to the brand new memorial at the actual southern point of the island. The snow seemed to fall harder the further south I pushed.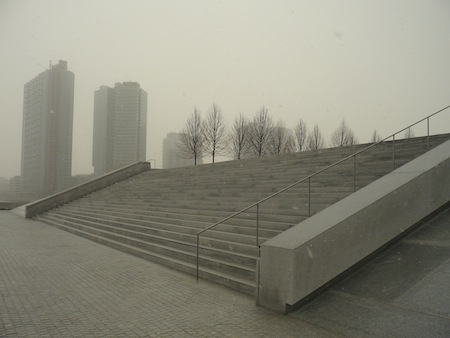 I had the area almost, but not entirely, to myself. A few security personnel were stationed nearby, and two other visitors emerged from the endpoint just as I approached, as if summoned by my desire for a photo that really showed the size of things as well as the perspective.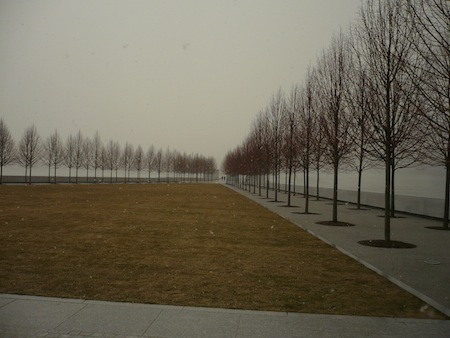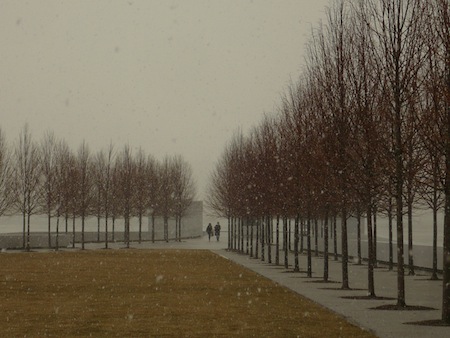 The design is supposed to suggest a Greek temple, made of permanent-looking North Carolina granite and fringed in linden and copper-beech trees. A quote from FDR's Four Freedoms Speech, which gives the park its name, is carved in a huge block of this stone, and the large bronze head of FDR sculpted by Jo Davidson is the FDR pilgrim's ultimate destination: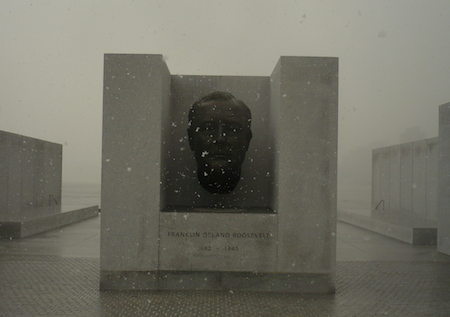 But regular readers won't be surprised that I'm more enamored of this cold rock with sea birds upon it, rising up from the river just south of the tip of the island.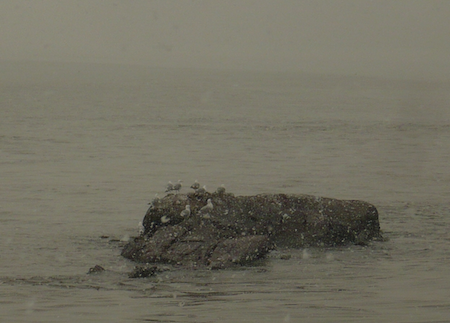 I walked back on the less manicured eastern (Queens) side, from which the Queensboro/59th Street/Ed Koch Bridge was just visible through the snowy mist. And the weather wasn't bothering the ducks any more than it was the seagulls.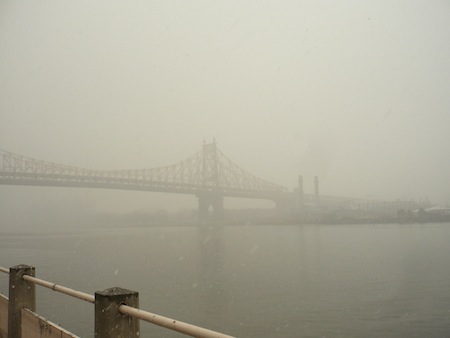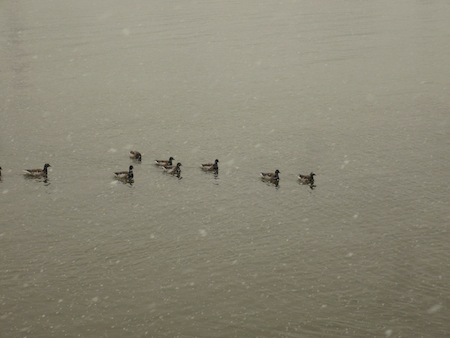 It wasn't bothering me either, exactly, but when I got back to the tram I was snow-covered enough that I decided to save the opposite end of Roosevelt Island, with its Sandy-damaged Lighthouse Park, for another visit. So stay tuned for Roosevelt Island II: The Voyage North, coming soon.