As I endeavor to visit every park in New York City, I bring you via this blog the beautiful and the interesting, the time-honored and the new, the vast and the pocket-sized. I also find among the city's green and open spaces the neglected and the sad. Case in point: Macri Triangle, in one of the not-so-hipster-cool parts of Williamsburg, Brooklyn.
Two things appear to be of note. First, there's a memorial to "the men of this community who made the supreme sacrifice in World War II." Most of the names are Italian, reflecting the composition of the community in the 1940s.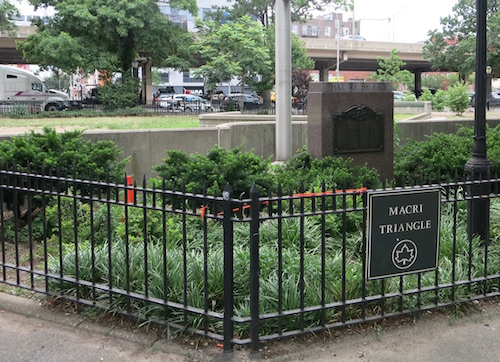 The other item also indicates a heavy Italian-American presence – and the dwindling thereof too. It's an overgrown bocce court.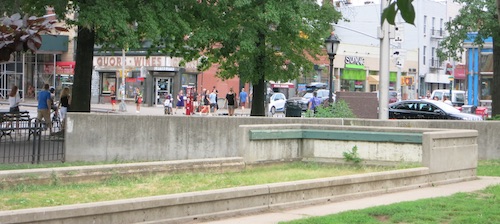 The little park is not being entirely ignored. A website called Friends of Macri Triangle Park asks residents to "Join us in working together for our lovely little triangle park" and "Help us fix up that amazing – but seriously dilapidated – bocce court." The group formed just recently, in the fall of 2016, when it held a "family fun day" and clean-up event. Perhaps things are looking up for Macri Triangle.
A couple of new plantings offer a glimmer of hope.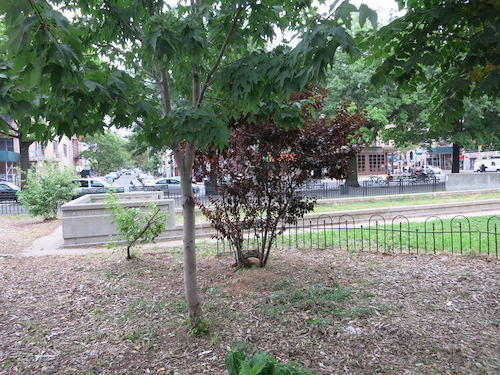 Still, when we visited on a weekend afternoon in July, we were met with this sad sight: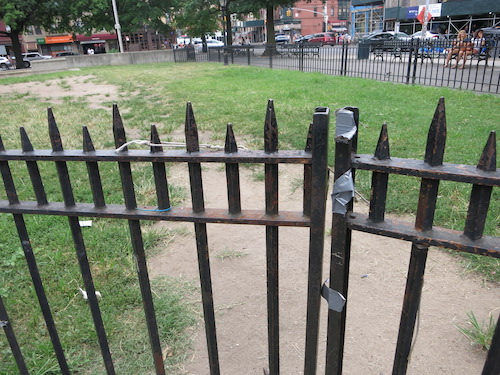 It's hard to get more pitiful than a "lock" improvised from rope and duct tape. It did seem to be having the desired effect, though – no one was inside. Not that there was any reason to be. Benches line the sidewalks around the park, which sits by the Brooklyn-Queens Expressway. But there's no real seating inside, nothing to do (at least until that bocce court gets revived), and nothing nice even to look at, aside from the memorial.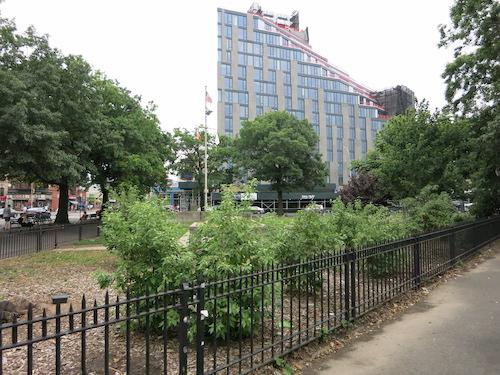 Even the Parks Department website offers no historical information on Macri Triangle. It took me some digital digging to come up with a 2009 article that mentioned the park's creation "in 1946 from land seized by the city in the aftermath of the construction of the Brooklyn-Queens Expressway." The Courier-Life piece also tells us that after the park had been neglected for decades, in 1990 Assemblyman Joseph Lentol got funding to build the bocce court, "though fewer people use the court for bocce these days" as "[t]he demographic that might play bocce is moving out of the neighborhood and going to Long Island and other places where rent is cheaper."
As recently as 2008, a blogger described Macri Triangle as "well kept-up and is a rather nice little park," and presented photos to prove it. But it quickly declined, and a 2014 presentation described it as "Not Cared for" and "Not Inviting."
A nearby gay bar, Macri Park, shares the name. But where that name came from – who Macri was – my internet search has not revealed; if you know, please leave a comment!
All photos © Jon Sobel, Critical Lens Media