In my other guise as a theater reviewer, I see plays mostly in Manhattan, but sometimes in the outer boroughs, where a trip to the theater can occasion a visit to previously uncharted parks. I used the occasion of a recent excursion to the Secret Theatre in Long Island City, Queens, to document three unheralded Triangles in this rough-edged neighborhood with a modest but active arts scene.
The Albert E. Short Triangle, the most of modest of the three, is conveniently adjacent to the Court Square Diner. For a tiny green space it gets a lot of verbiage on the Parks Department website. For our purposes, suffice it to say that Albert E. Short, who died in 1951, was a Queens Assistant District Attorney who "developed a reputation for prosecuting bootleggers and extortionists," concerned himself with what used to be so colorfully called "juvenile delinquency," and in 1942 served as the Exalted Ruler of the Queensboro Lodge of Elks. I don't know much about Elks, and I definitely didn't know they gave their leaders such grandiose Mason-like titles. But if he was an Exalted Ruler, it's only right he should have a triangle of green named after him.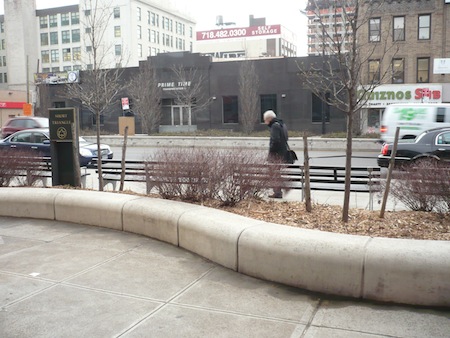 A bit bigger is Gordan Triangle, named for a Long Island City native killed in World War One.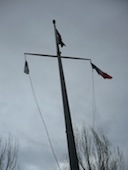 If a space alien arrived and did nothing but visit New York City parks, he or she would probably conclude there had been just one great war on this planet, called the Great War – that's how many parks are named for or feature statues honoring specific soldiers or the Doughboys in general.
Naming this one for Private Edward F. Gordan was clearly an improvement over its previous handle, Cassidy Angle, which honored an early Queens Borough President who at the beginning of the last century "quickly earned a reputation for scandal" and subsequently spent a year in Sing Sing. This amusing information comes courtesy of the Parks Department website (which has the apparently incorrect spelling "Gordon").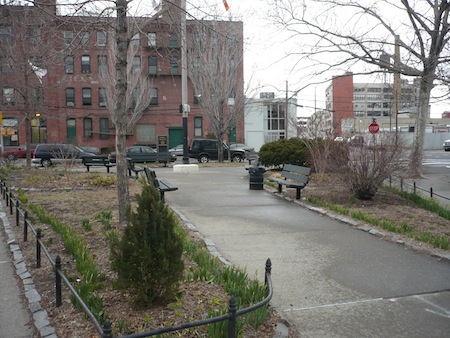 My rain-spattered early evening visit rewarded me with some signs of spring.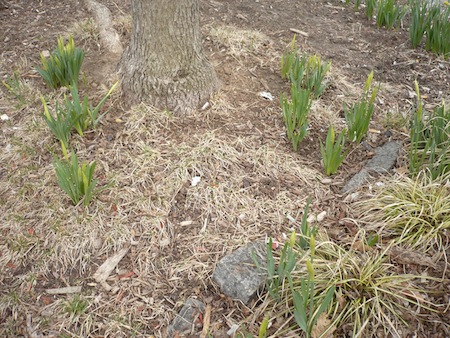 The most picturesque of today's triumvirate of triangles is Rafferty Triangle, located (alas) not at Baker St. but at the intersection of 44th Dr., Hunter St., and Crescent St., right by that big Citibank skyscraper you can see from Manhattan.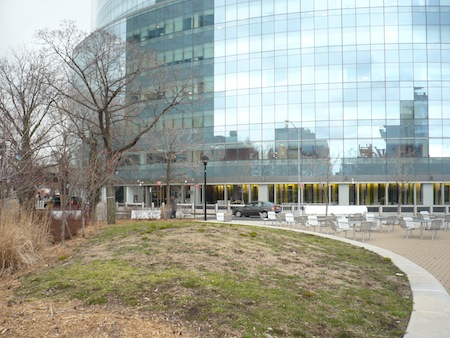 It was looking appropriately windswept on this breezy, drizzly, unusually warm evening in late March.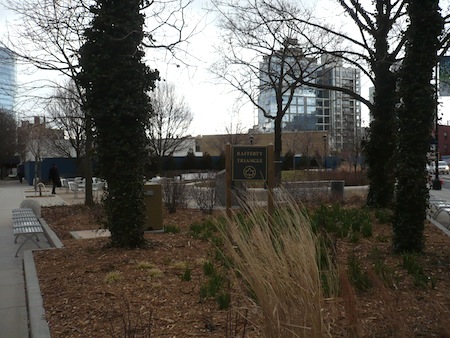 Across the street is the parklike landscaping of the Citibank tower.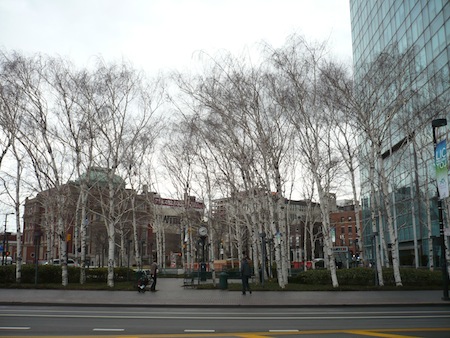 So what do you get when you combine three Triangles in one blog post? Well, geometrically speaking, you might get a Rectangle with a Hat. Geographically, though, and historically, you get a neat little walking tour of a little-appreciated part of Queens. Followed by dinner at the diner. And, if you're of a mind, a show (usually excellent) at the Secret Theatre, which you enter via what looks like a former loading dock – which feels just right for the artfully bare-knuckles aesthetic of the resident Queens Players, and indeed of Long Island City itself.