There's a surprising amount of open space in downtown Brooklyn and Brooklyn Heights. Across Cadman Plaza East from the larger Cadman Plaza Park is Walt Whitman Park, a nearly three-acre rectangle of grass, trees, curved paths, and a fountain kids can stomp around in.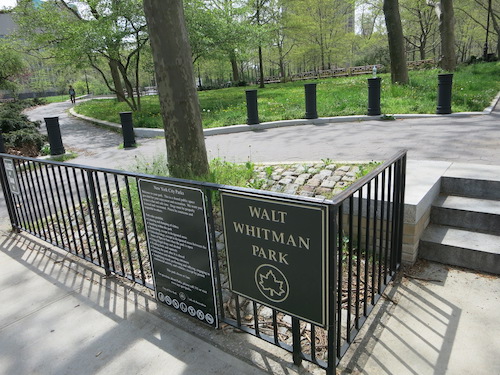 Don't try to drive in here. Security measures are evident, probably because of the proximity of the New York City Emergency Management center – which, per Google Maps, one intrepid citizen has actually reviewed. (Five stars, in case you were wondering. Sadly, no commentary.)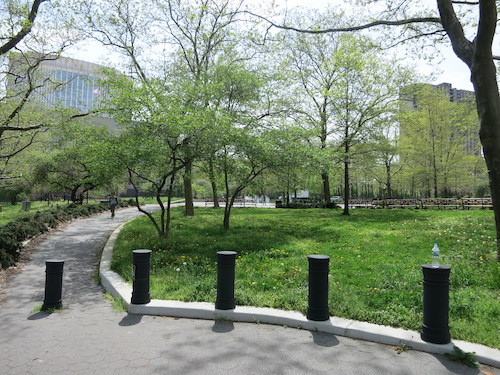 There wasn't much action in Walt Whitman Park on a sunny Saturday in spring.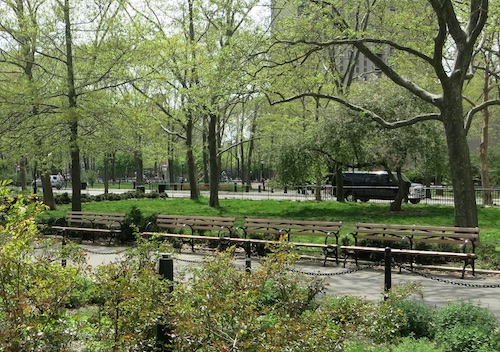 Only a few people had brought their kids to the fountain.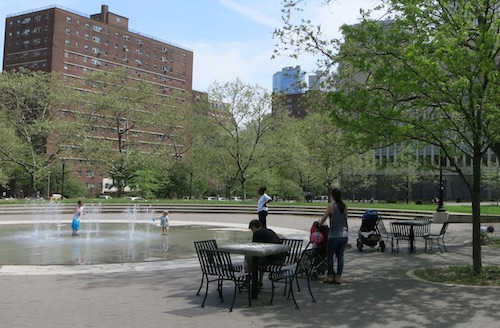 Walt Whitman, as readers of this blog and Brooklyn-history buffs know, spent a good part of his life in the Borough of Churches, even editing for a time in the 1840s the Brooklyn Daily Eagle, for which he wrote a poem called "The Play-Ground," which begins:
When painfully athwart my brain
Dark thoughts come crowding on,
And, sick of wordly [sic?] hollowness,
My heart feels sad or lone—
Then out upon the green I walk,
Just ere the close of day,
And swift I ween the sight I view
Clears all my gloom away.
For there I see young children—
The cheeriest things on earth—
I see them play—I hear their tones
Of loud and reckless mirth.