New York City has plenty of mini-parks where streets cross at acute and obtuse angles leaving small triangular patches of land with no other practical use. Rarely, though, is one of the streets the Brooklyn-Queens Expressway, known colloquially as the BQE. Winfield Plaza, also designated Crosson Memorial Park, in the Woodside neighborhood of Queens, is just such a place.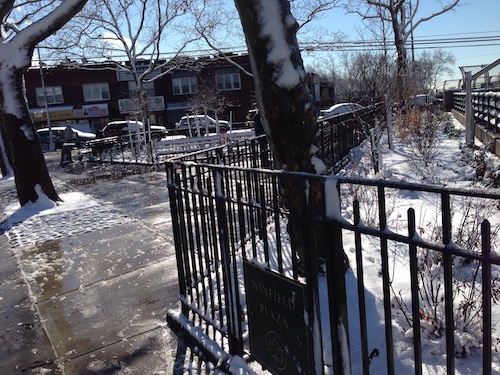 Actually suspended above the BQE, where 68th and 69th Streets both run into Woodside Avenue, the little plaza was acquired by the city in 1955 as part of a renovation project on the expressway – a road which, as everyone knows, is now a beautiful jewel in the golden chain of pastoral highways that spiderweb our fair city.
Why "Winfield"? Well, wouldn't you know it, there used to be a neighborhood here called Winfield, named after Civil War general and 1880 Democratic presidential candidate Winfield Scott Hancock. (If you were hoping it had something to do with Dave Winfield, sorry. This is Queens, after all, not The Bronx. As a consolation prize, see the baseball reference below.)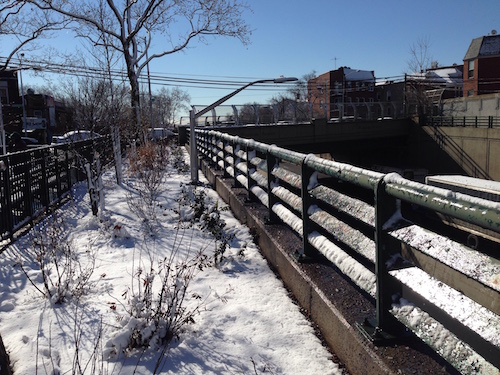 Why "Crosson"? In the 20th century the neighborhood of Winfield lost its identity and was absorbed into Maspeth and Woodside. In 1968 the City Council renamed the spot Reverend Matthew J. Crosson Memorial Park after a noted World War II army chaplain and local pastor, born in Manhattan but a resident of Woodside in his youth and when he was ordained. According to the Parks Department, Crosson was later nicknamed "the baseball priest" because he was closely associated with youth sports leagues.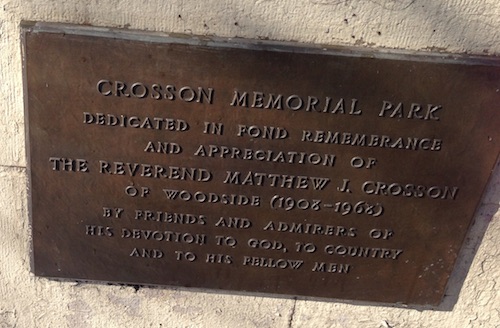 Either the Park Department signage hasn't caught up, or somebody over there has a sentimental attachment to the Winfield connection. The department's historical sign program, at least online, still lists it as Winfield Park.
---