Another very large Staten Island park unknown to most New Yorkers, Silver Lake Park presents an interesting mix of natural beauty and utilitarian planning and design.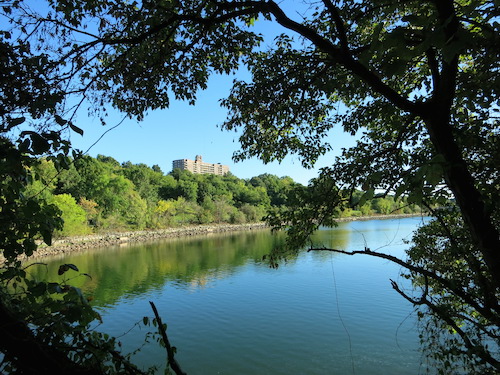 Unlike parks that advertise a small pond as a big attraction, like a little pearl in a very large oyster, Silver Lake Park is dominated both aesthetically and geographically by its namesake body of water, a sizable reservoir that evolved under human hands from a natural lake.
Stretches of peaceful grassland with some really nice old trees greeted us as we entered from the north. These are just London plane trees, ubiquitous in New York City, but these particular guys have grown some noticeable personality over the decades.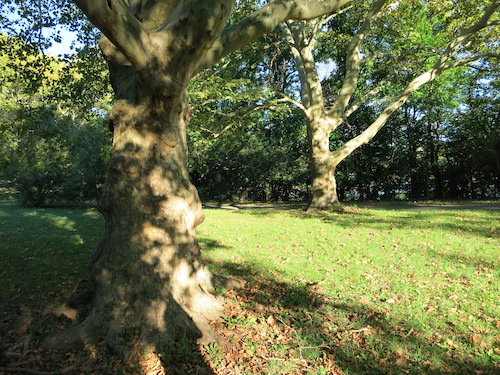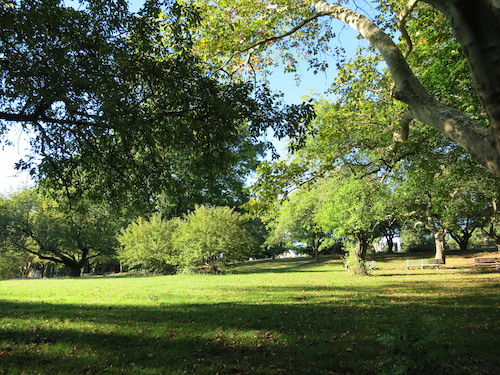 And look! An apple tree!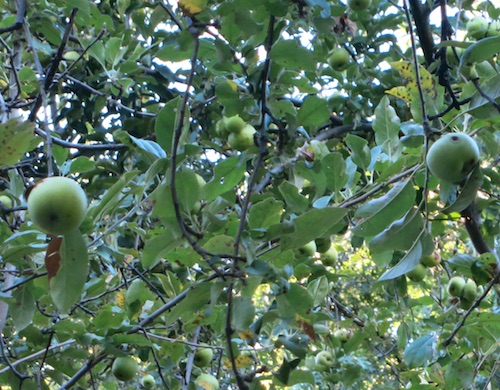 It doesn't take much to get us city folk excited. Later we came upon another one: Look! An apple tree! And this one has red apples!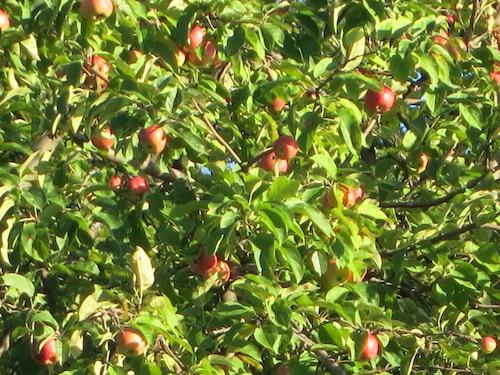 A big chunk of Silver Lake Park is a public golf course. The 18th fairway is believed, says the Parks Department website, to contain the remains of "perhaps several thousand" 19th-century immigrants who died from contagious diseases after being housed in the Marine Hospital Quarantine in Tompkinsville, including many refugees from Ireland's Potato Famine.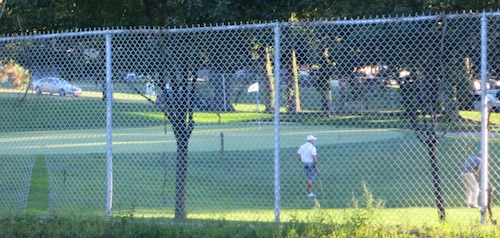 I'm imagining the kids in the next photo sneaking onto the course through the gap in the fence (on the left side of the above photo) to practice chip shots when no one's looking. You know. As kids will do.
Or ghosts of the dead immigrants using it to come in and out at night. Everyone knows ghosts hate to climb fences, right?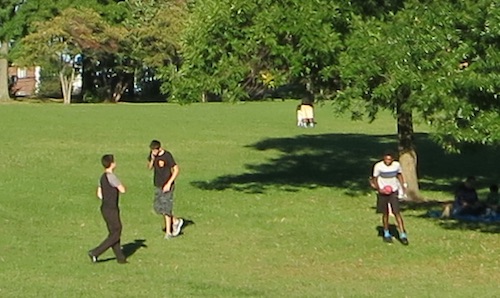 In 1913 the Board of Water Supply drained the original lake and created a reservoir to serve as the endpoint of the city's Catskill water supply system. (Infrastructure junkies interested in how engineers piped water from the Catskills to Staten Island can detour here.)
No longer a working reservoir, Silver Lake is used today for drainage of two huge underground water-storage tanks system built in the 1970s – two of the world's largest, in fact, with a capacity of 100 million gallons. That's a lot of flushes.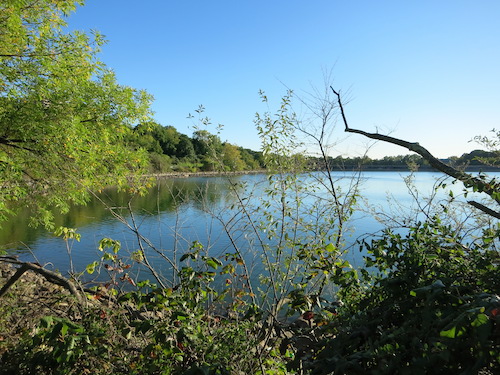 Infrastructure. Boring, right? Probably ugly, right?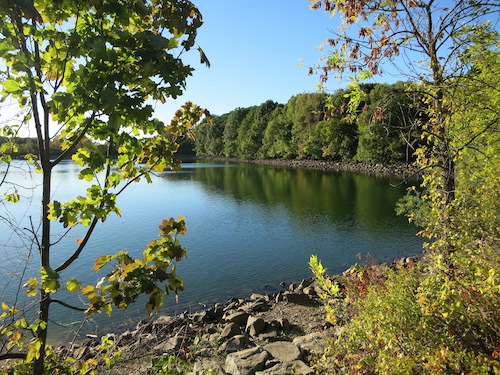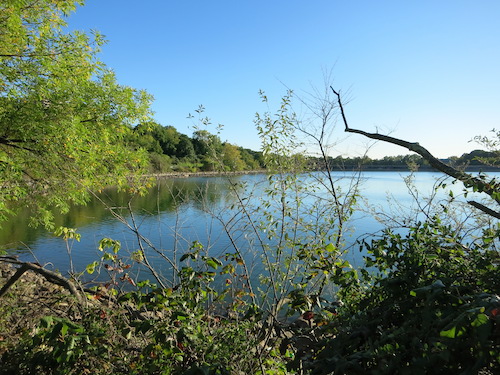 Seems you're not supposed to swim in the reservoir. But fishing looks to be OK.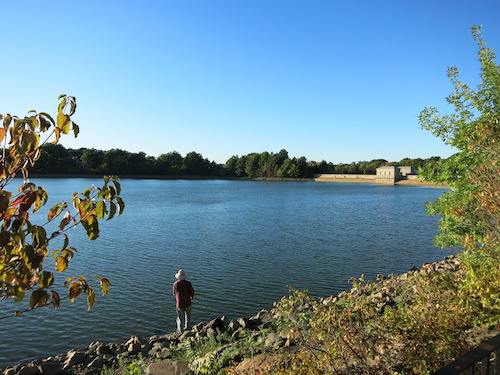 Elsewhere in the park, water gets more excited.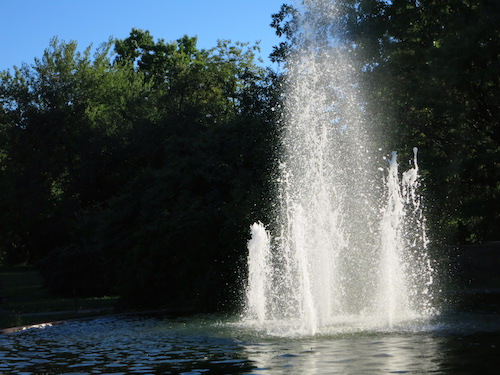 But I got more of a kick out of walking across the reservoir's divider, which you can see in the background of the picture with the fisherman above. Here it is from a closer vantage point.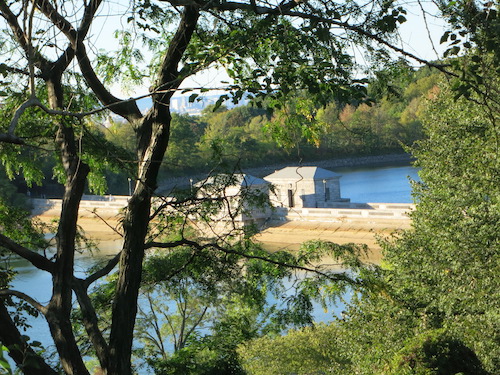 The structures on the divider bear the engraving "CITY OF NEW YORK CATSKILL WATER SUPPLY" above the New York City seal, with its beavers, flour barrels, and windmill evoking the time of the early Dutch settlers.

Peering inside the structures doesn't reveal much. And they're locked up pretty tight. I don't think even the ghosts from the 18th hole could slip through these bars.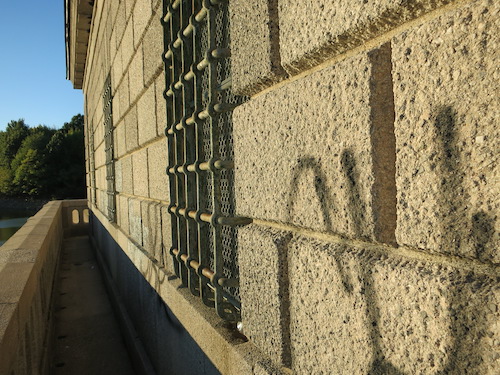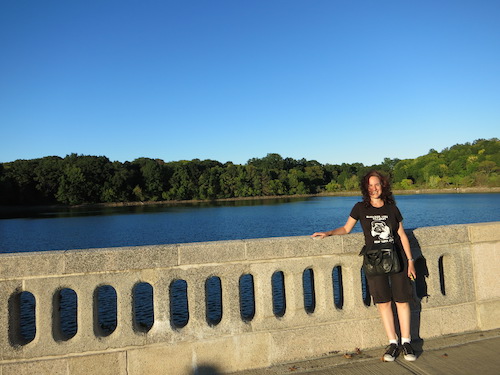 The view from the barrier gives you a good sense of the size of the reservoir.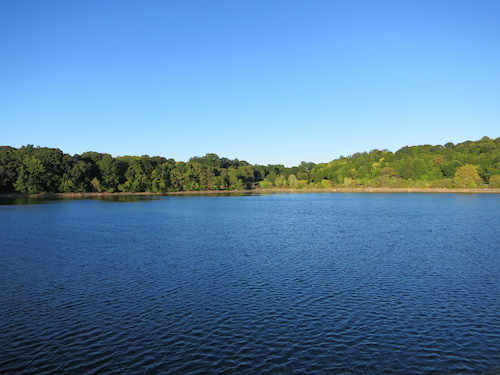 By contrast, there's nothing too spectacular about the "park" part of the park. A staircase from one level to another. A dog run.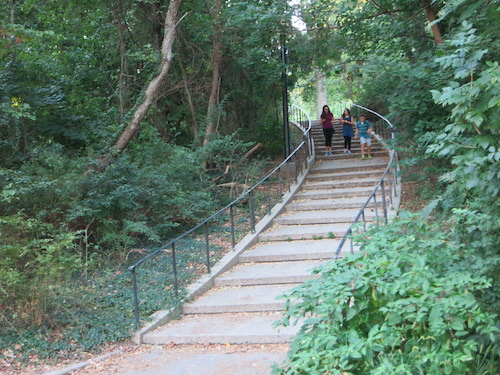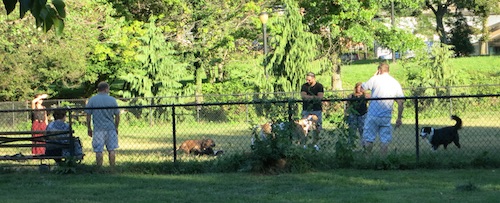 Winding paths. More trees. The moon.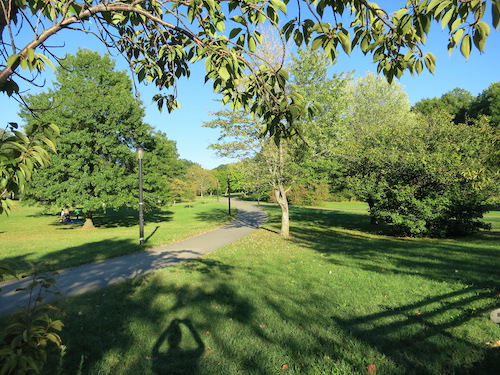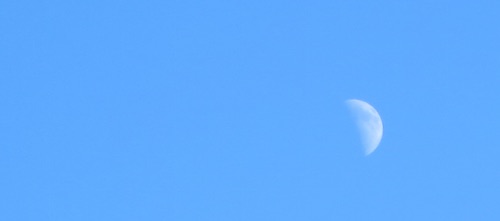 When it was created more than a century ago, Silver Lake Park was envisioned as Staten Island's answer to Central Park and Prospect Park, vast sculptured masterpieces too inconveniently located for Staten Islanders to visit often. It is nothing like those parks.
But it has its own beauty – infrastructural at it may be. And it did fulfill the vision of park visionary John De Morgan, who, addressing the New York State Assembly in Albany in 1900, asked on behalf of his fellow islanders for a place "Where…their children [can be] kept from the contaminating influence of the saloon."
I didn't have a single urge for a whiskey the whole time I was in Silver Lake Park.
All photos © Jon Sobel, Critical Lens Media