As it's named for Clement C. Moore, author of the famous poem "A Visit from St. Nicholas" (popularly known as "'Twas the Night Before Christmas"), it's only fitting that the name of Clement Clarke Moore Park is itself a micro-poem:
Clement Clarke
Moore Park
There, you see? And who says a poem needs a verb?
Moore's family estate, which includes what is now the General Theological Seminary, was once a farm. Moore's grandfather, Captain Thomas Clarke, bought the property in 1750 and named it Chelsea, the name borne now by the whole neighborhood.
So I figure this little corner park, though mostly just playgrounds, is worth a mention because of that connection to the history of the area. Also, the surrounding trees sure do look nice in bloom in the spring.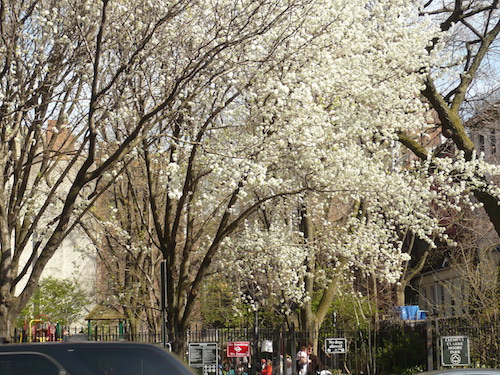 Stopping by again on a warm summer afternoon, I found all the gates mysteriously closed, and all but one locked – yet there were people inside, a scattering of tiny children and their caretakers. Feeling unwelcome, I stayed outside the iron fence.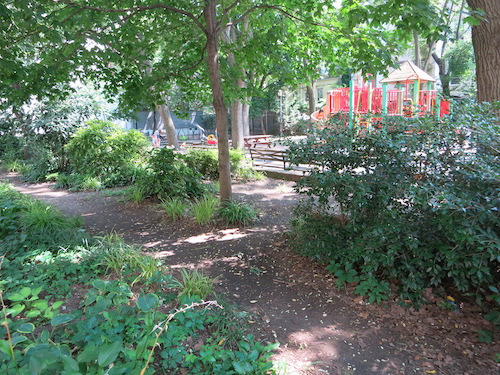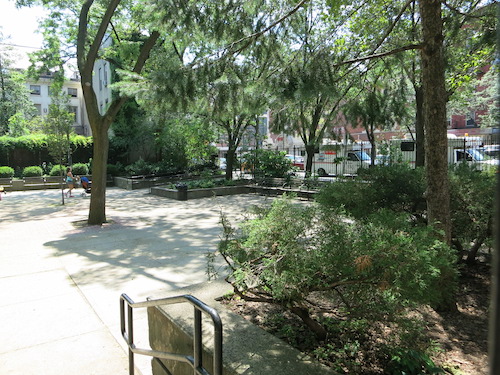 Just across Tenth Avenue you can see the High Line. But there's no serenity on the street. Although we're several blocks south of the tremendous Hudson Yards development now under construction, the traffic backups make Tenth a noisy crawl of trucks, buses and cars all day long.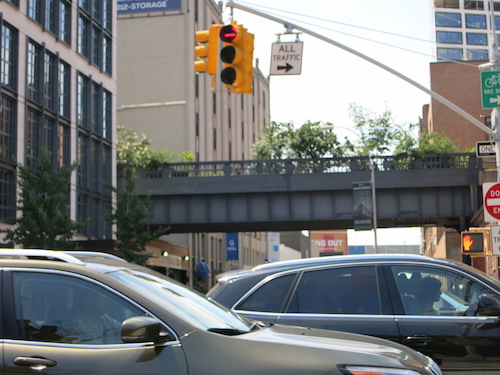 It's hard to imagine the Hudson River is just one further block west. But maybe that's just what this spouting seal is doing. Though surrounded by colorful offerings left him by the local toddlers, he pines for the open water.