Squeezed into a small space between Broadway and Fifth Avenue,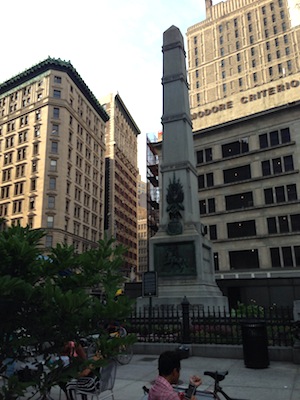 and just across Fifth from Madison Square Park, lies Worth Square. Its raison d'être: the final resting place of General William Jenkins Worth (1794-1849) and the 51-foot monument honoring him.
Worth's body was interred here in 1857 after a temporary stop at Green-Wood Cemetery. A hero of the War of 1812, Worth later fought in the Second Seminole War in the early 1840s, was promoted to General, then campaigned in the Mexican War.
He's largely forgotten today, and thousands of people walk by his mausoleum every day without looking up. But they should look up . Aside from Cleopatra's Needle in Central Park, it's the tallest obelisk in the city.
James Goodwin Batterson designed the obelisk. The founder of Travelers Insurance Company, Batterson also had a hand in designing the United States Capitol, the Library of Congress, and the New York State Capitol in Albany. It's New York City's second oldest monument, too, the oldest being the 1856 George Washington equestrian monument at Union Square just half a mile south.
And as I just learned from a Bowery Boys podcast, the Worth Monument is the central object in a straight line of three New York City obelisks, with Cleopatra's Needle to the north and the Thomas Addis Emmett Obelisk in St. Paul's Chapel's churchyard to the south, near City Hall and the World Trade Center.
So next time you're near Madison Square Park, or if you're thinking of going to the outdoor springtime culinary war zone known as Madison Square Park Eats, think on this: That food festival actually takes place at Worth Square, in the shadow of the Worth Monument honoring a man who fought in the wars we forget about.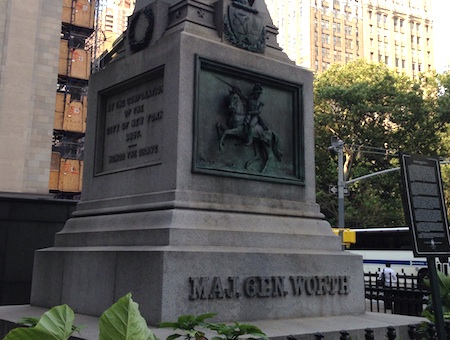 About the Author