Heading for the Bronx to visit two sizable parks I'd never been to – Claremont and Crotona – I stopped first at a much smaller park I assumed would be a footnote to my Bronx expedition. But Richman (Echo) Park turned out to be the most dramatic stop of the day.
There's plenty of ice age rock to go around in this city – the famous Manhattan schist, of course, as well as the Fordham gneiss. But Richman (Echo) Park has two of the most majestic spines of boulder anywhere in the city. Is this part of the Fordham gneiss? I'm going to have to ask a Bronx-savvy geologist. Meanwhile, take a look. Here, the rock rises behind a small, typical play area, while a polar bear prances at geologic speed off to the side: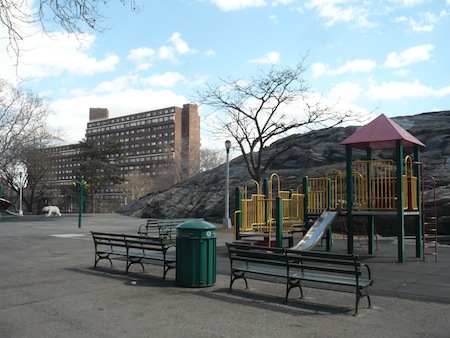 From high atop one of the rock ridges, you get a good sense of the scope of the formations, and as a bonus, a nice view of Tremont Baptist Church.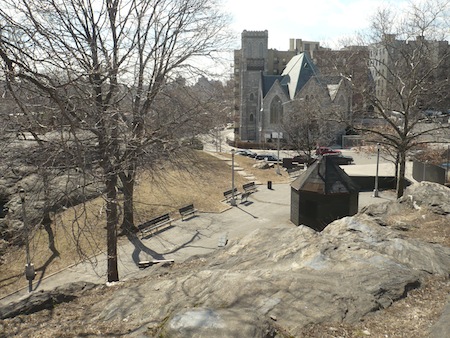 Do you see a face snarling at you, like an open-mouthed tiger's, in the central protrusion of this rock formation? I do: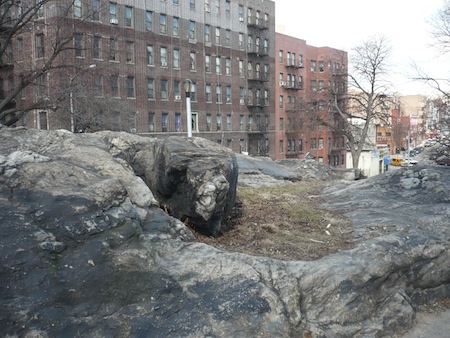 The beast seems to be disdaining the apartment buildings behind him,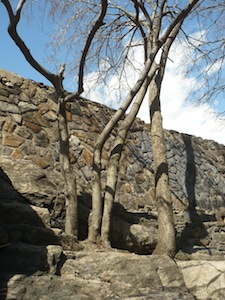 as if the ancient rock considers mankind's temporary structures beneath its contempt.
Meanwhile, trees grow where they can – here at the juncture of primordial rock and manmade walls and stairs, and below where there's a bit of space between the huge ridge and a smaller boulder.
Note the hooded human on the bench, basking in the majesty of it all.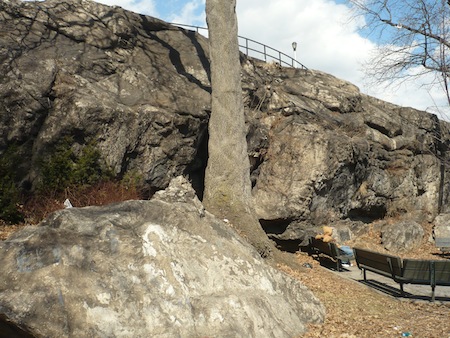 It's said that if you shout between the two rock masses you get the echo that gives the park its traditional name. The newer name honors a 20th century city official named Julius J. Richman, a local leader who was, among other things, chairman of the Twin Parks Association.
"Twin Parks"? Now, which parks were those? Something I missed?
Alas, no parks, apparently; Twin Parks was an early-1970s urban renewal housing project.
An informative post on Forgotten NY recounts a walk from the Grand Concourse to Parkchester, giving historical and topographical context to this topographically impressive park. I've always wondered why the Bronx has numbered streets just like Manhattan and yet they curve and curl around each other like blind spaghetti. It's the topography, I learned, that prevents the Bronx from sustaining an flat, regular grid of streets.
Richman (Echo) Park is a prime example. Walking around it is like riding a heavy roller coaster, slow as the ice age but infinitely sturdier than any cyclone.