Continuing my Bronx adventure, I left Richman (Echo) Park, walked south on Webster Avenue, crossed under the Cross Bronx Expressway, and entered a much larger green called Claremont Park, one of the oldest parks in the Bronx.
But let's stop right here and make a note on the changed terrain of a great city.
Webster Avenue, according to the Parks Department website, used to go by another name: Mill Brook.
Today it's a wide thoroughfare lined with auto repair shops and fast food joints. And that's New York City in a nutshell for you. There is a housing development in the borough called the Mill Brook Houses. But to all appearances, there is no longer a brook.
Claremont Park's history is much more interesting than its landscape. Where once rose the Zborowski Mansion now sits a plain-jane gazebo. Where the apple orchards of the Zborowski estate once grew, now grows grass. Where once lay the "infamous Black Swamp" with its livestock-swallowing maw, now earthworms happily churn black dirt.
The area was once part of the Morris estate. Then in the mid-19th century Elliott and Anna Zborowski de Montsaulain bought this parcel, wisely naming it "Claremont" instead of giving it their own name. Some 40 years later the city purchased an enormous acreage of Bronx tracts, including Claremont, for parks and parkways. The mansion became a parks department headquarters for a while, but was torn down in 1938. Here's an old photo: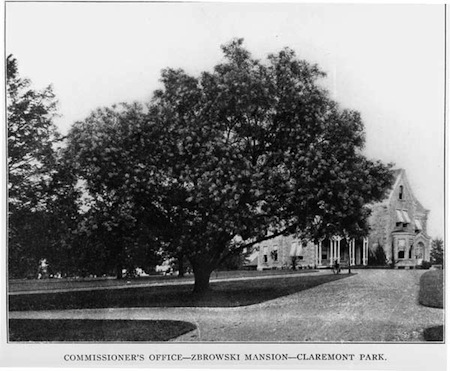 Alas, today there's no sign of Claremont's aristocratic past, unless you count this admittedly handsome stairway entrance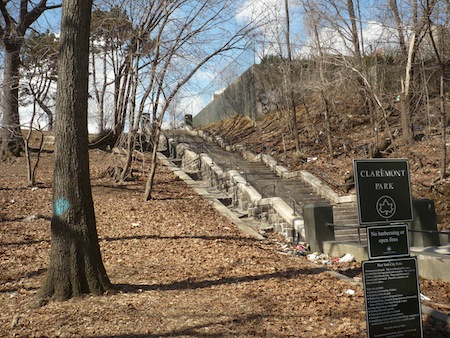 But where the mansion once stood, there's just that gazebo.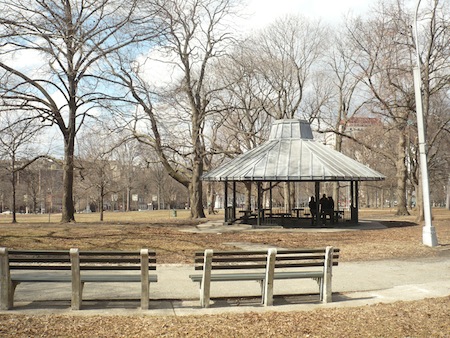 Otherwise, what you've got is pretty much your basic city park, though it's a fairly big one.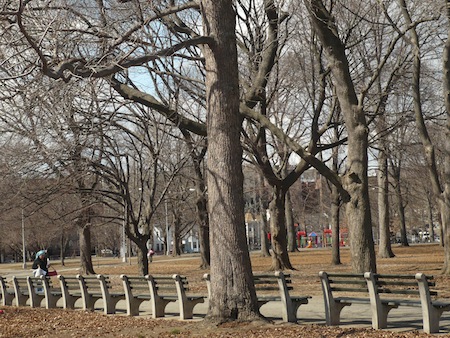 Here's one unusual feature: Fenced off for the season behind these yellow buildings is an outdoor swimming pool.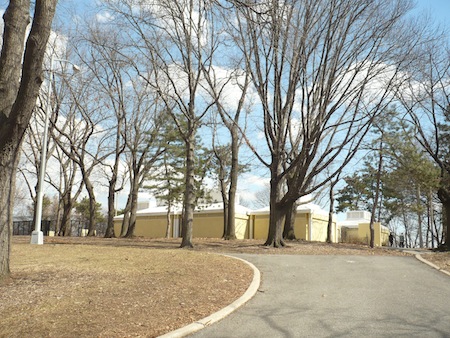 Naturally, the park is lovelier in the spring and summer. I was there on a sunny, windy Saturday in March. The temperature was in the 50s but the populace seemed not to have caught up to the weather. Few people were using any of the four parks I visited on this Bronx outing. The Six to Celebrate website has a nice photo of Claremont Park in greener times here.
Claremont turned out to be a good location for wildlife sightings, though. A gnarly tree sprouted a squirrel tail:
And my wildlife sighting of the day (nay, of the season) came just as I was leaving Claremont Park thinking,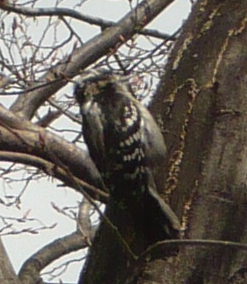 Well, that was pretty boring. Like the squirrel, this woodpecker was too shy to show its face to the camera, but it was a woodpecker, all right – I heard that unmistakeable rat-a-tat-a-tat before I saw it.
While I wasn't expecting to spy a woodpecker, I was even more shocked that I was able to identify it with near certainty. This, my friends, is a female downy woodpecker.
The fact is, I'm almost never able to find, either in my old Audubon Society Field Guide to North American Birds or in my new Stokes Field Guide to Birds: Eastern Region, a picture of a bird I've spotted in the wild. I can only conclude that I've discovered a whole raft of new species over the years, many of them right here in New York City.
Most recently it was a swimming and diving creature, black, smaller than a mallard and with a thin beak but otherwise duck-shaped, in the water off Hudson River park. I have named it the North River Diving Duck until otherwise enlightened. Thank you. (No, it wasn't a cormorant; it swam and was shaped like a duck.)
Anyway, I was insanely delighted to find pictures and descriptions of this Bronx bird in not one but both books. Although you can't see its head in the photo, I saw the whole bird. And I hereby assert that it was a female downy woodpecker. I assert it. I do.
Rejuvenated, I continued to the next and largest park on my day's itinerary: Crotona Park.