I admit only grudgingly that Coenties Slip Park is in fact a park, but with benches and plantings it makes an effort.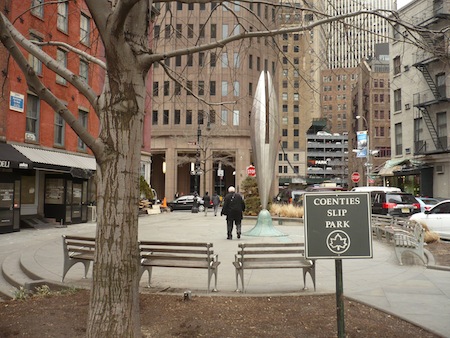 In this ancient part of the city, Manhattan's southern tip, just about anything you run into is interesting even if lacking in other qualities. Every street you walk on is soaked in history.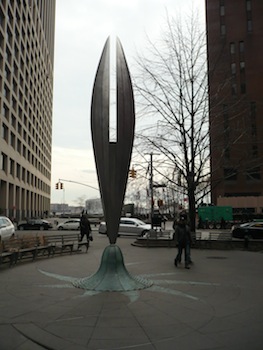 I'm also intrigued by the way public spaces like this are inserted into these crowded warrens, often taking advantage of the irregular street layout to get tucked into spaces that might otherwise have little practical use.
Coenties Slip is a little street near the waterfront named, according to Wikipedia, after "an artificial inlet in the East River for the loading and unloading of ships that was land-filled in 1835." For more on New York City's many slips of old, see Harold Goldstein's rundown. Apparently, the street that Coenties Slip became used to run for a few blocks, but the stretch closer to the river has been subsumed by the Vietnam Veterans Plaza.
Hugging the street that remains is a small triangular area marked by a striking sculpture by Bryan Hunt called Coenties Ship. This double-pointed steel structure suggests, perhaps, a ship's mast, or a catamaran standing on end – or what you will. (He says it is meant to "invoke buoyancy and nautical nuance poised for a future.")