In an era of climate change and superstorms, restoring wetlands is a bigger priority than ever for a seaside city like New York. One "urban freshwater wetland restoration" site is at 132-acre Canarsie Park, which runs from Paerdegat Basin east along the south coast of Brooklyn as far as Canarsie Pier.
The goal, according to the Parks Department, is to create a "man-made new freshwater wetland complex carved out of dredge spoils, overflowing into Jamaica Bay."
That's exciting! Dredge spoils are my favorite kind of spoils.
We got a glimpse of the wetlands while walking through the park on an unseasonably warm February day:
A quiet, breezy place that seemed at first glance almost featureless, Canarsie Park looked like a windswept prairie where not much besides tall grasses could grow.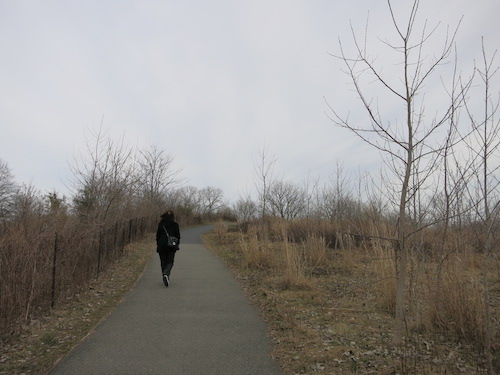 There are trees here, but they don't dominate as they do in many parks. We did encounter a school group taking a brisk walk up and down the rises along Lookout Path East and Lookout Path West, where winter-bare trees stood, overseen by a lone raptor.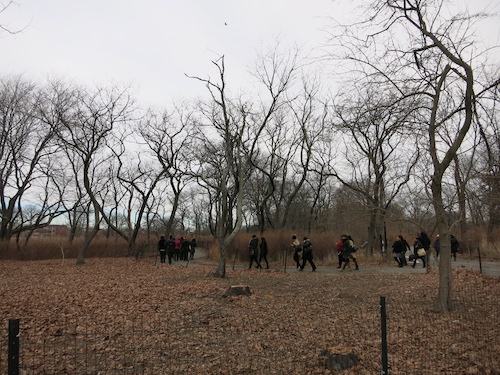 According to a helpful sign, "You are standing in an area that is slowly developing into a mature woodland mostly through natural processes. Aside from a few pin oaks and honey locusts, which were planted long ago, the trees here took root on their own."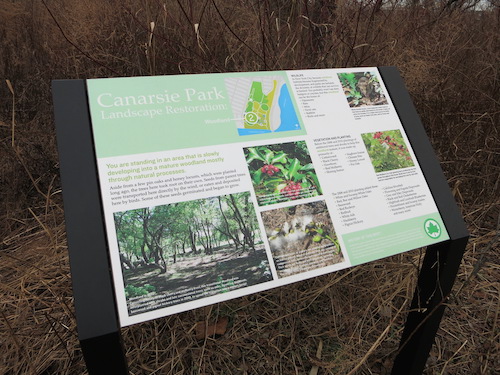 The sign mentions the presence of black cherry trees, Chinese elms, cottonwoods, and more, already present when plantings in 2008 and 2010 added more trees and shrubs. Bottom line: this place is very much in transition. It's hard to imagine what it will look like in, say, 30 years.
It's a good bet these hoary London plane trees will still be here, though.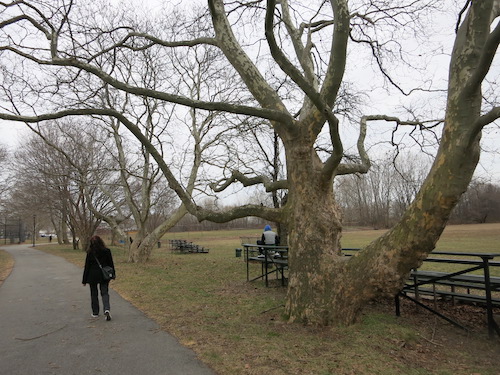 Established by the City of Brooklyn in the 1890s, just before the great consolidation of the five boroughs into our single and singular city, Canarsie Park has been expanded numerous times, most recently in 1958. The 17th-century Schenck House, now on display at the Brooklyn Museum, once stood here, on what was known for a while as Mill Island (though I don't know how far back in time you'd have to travel to find an actual island).
According to Hidden Waters of New York City by Sergey Kadinsky, "The Schenck family owned the house for three generations, finally selling it in 1784…In 1909 the Atlantic, Gulf, and Pacific Company acquired the house and surrounding land as it sought to transform the marshland into a thriving industrial seaport. The house fell into disrepair."
Needless to say, no "thriving industrial seaport" was ever established here. Thus we can still enjoy peaceful vistas like this one: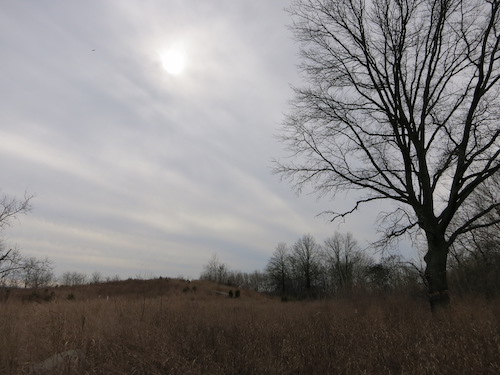 Before discovering Canarsie Park, all I had known about Canarsie was that its pier was known as a good fishing spot. My family lived in the neighborhood for a short time many years ago, before I was old enough to remember much of anything, and my mother doesn't have fond memories of the place. So I never paid it much mind. But now I know, and you know, that it has a large, interesting park, with play areas and a fitness course.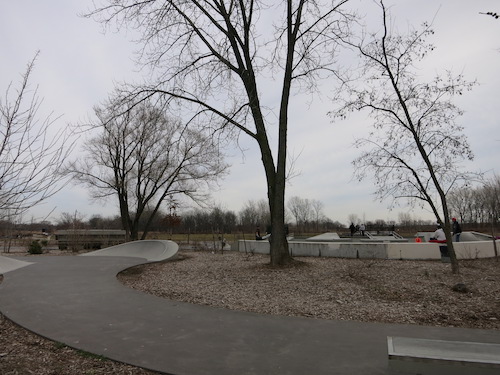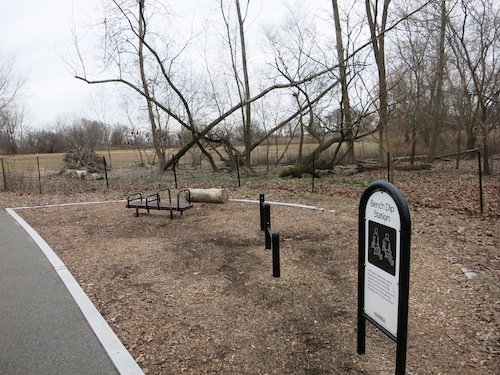 To close with a digression: Just outside the park is the Midget Squadron Yacht Club. Wiped out by Sandy in 2012, it has bounced back, even electing its first female commodore this winter, as the New York Times reported. (I didn't even know yacht clubs had commodores.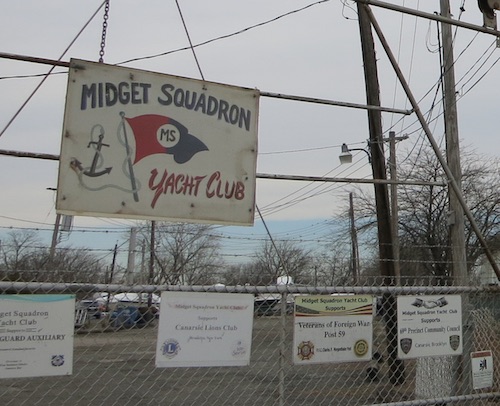 The name "Midget Squadron" makes me think of the cute nicknames bomber squads would give themselves during World War Two. But there's nothing military about it – it just refers to the small size of the club's "fleet" on its founding. Here's to another century for the this common people's boating club, founded "around 1900," based in a former military Quonset hut, and "hardly a snooty establishment" as per the Times.
Nothing snooty about Canarsie Park, either. Or Canarsie, for that matter. Which is probably just how the locals like it.