When I stumbled upon Bar and Grill Park in DUMBO it didn't occur to me that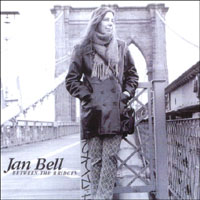 this "empty patch on York Street along the Brooklyn-Queens Expressway" had been named to commemorate the Between the Bridges pub, an old longshoreman's bar (and gritty little music venue) I used to frequent years ago when I had a share in a rehearsal studio in the neighborhood.
That was before the DUMBO real estate frenzy turned the Down Under the Manhattan Bridge Overpass zone into the epitome of a trendy, exclusive neighborhood. I've never seen a neighborhood "renaissance" happen so quickly and so completely.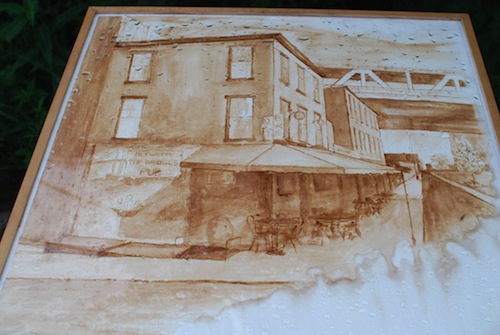 "Podium" by Tony Linberger, a painting of the old Between the Bridges pub
Naturally, this revitalization meant the death of the neighborhood bar. Between the Bridges has been gone for over a decade now. The same thing happened a few years later, and more famously and controversially, to Freddy's, another place where I used to play music and that I had grown attached to, when the Atlantic Yards/Barclays Center development came along.
The Brooklyn Papers reported back in January of 2007 on the greening of this patch across the street from where the old watering hole was replaced by a gleaming tower. DUMBO NYC has photos taken just after the trees were planted. They've grown richly since.
The wall mural by CAM (Craig Anthony Miller) is part of the DUMBO Walls public art project.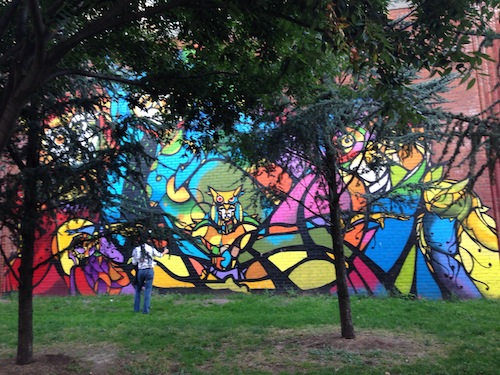 No one said the neighborhood stopped being artsy. It just stopped being affordable. And of course, lost its old-time flavor. Such is the way of the City.