This curious little park in Long Island City, Queens is called Sixteen Oaks Grove for a literal reason: namely, the 16 oaks trees that line it. Its location in a very unpicturesque part of town is precisely what made it an intriguing find for me. And "grove" is exactly the right word for it.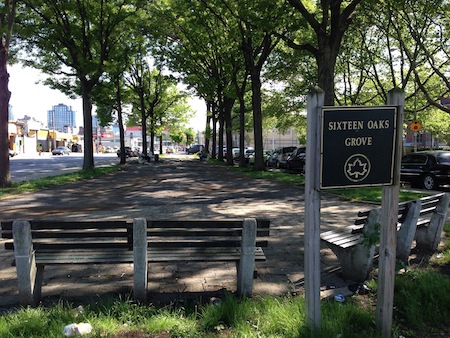 The oaks themselves seem to be in good condition. The paving stones, well – not so much.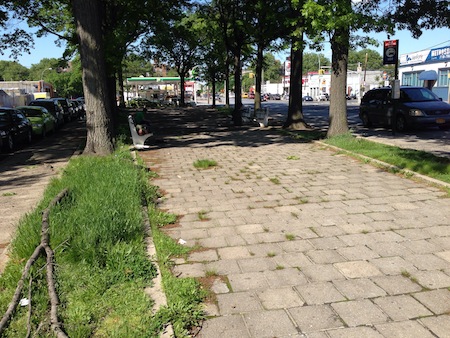 A previous day's rain has nowhere to go on this stretch of adjacent street.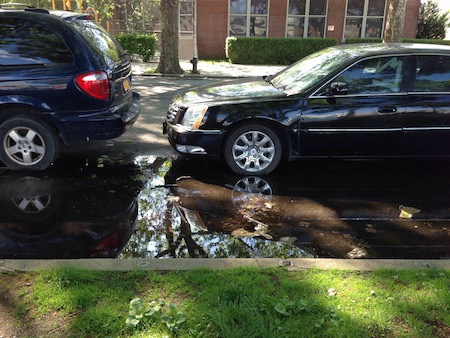 Nonetheless, several locals were taking advantage of the clear springtime weather on this particular Sunday to soak in some relatively fresh air on the benches.
I've noted before on this blog how many New York City parks memorialize World War One doughboys in one way or another. Sixteen Oaks Park is a strange case of a memorial that is no more. The Parks Department website tells us that the city obtained the land in two parcels, one in 1913 and the other in 1932, and that when it was put under the authority of the Parks Department in 1939 it was named after Leo Placella, a Long Island City native and soldier in Company F of the 4th Infantry, who died overseas of broncho-pneumonia shortly before the 1918 armistice.
Why, I wonder, was Placella's name later wiped off the map in favor of the mighty oaks?
Might as well ask Hercules, whose club, the Parks Department website also informs us, was according to legend "fashioned from oak."
About the Author