One of New York City's most eccentric parks is a four-acre tract of scrubby grass, half sculpture garden and half playground, by the East River in Long Island City (or, according to some, in Astoria), Queens.
Founded in 1985 by a group of artists led by sculptor Mark di Suvero, Socrates Sculpture Park is named for the ancient Greek philosopher and teacher, and in honor of Astoria's large Greek-American population.
On Saturdays, at least until November, it hosts a Farmer's Market. There's also a fancy-coffee vendor. On the ground, on a Saturday in late fall, there's more mud than grass. All this only adds to the anything-goes character of the place. Ungenerously, a commenter on this blog post called it a "glorified dog-run," but I suppose that's apropos on a blog called "Queens Crap."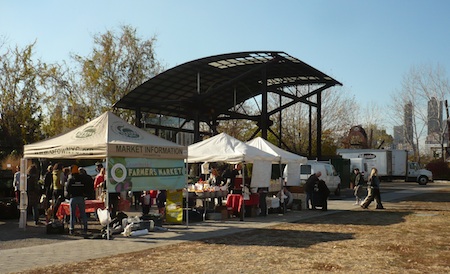 Each year the exhibits change. This season's sculptures lend themselves to play. How can you resist a sculpture you can slide down? (Also, what kid doesn't love a muddy field?)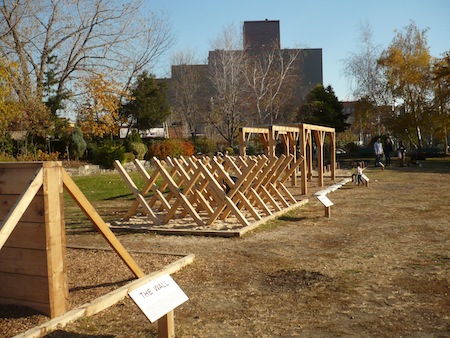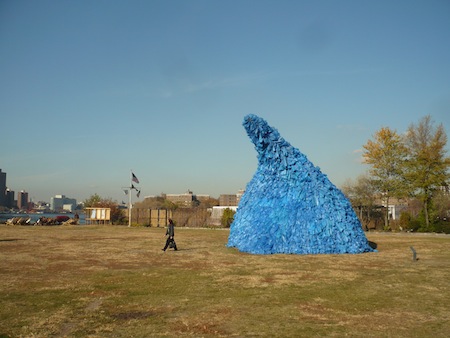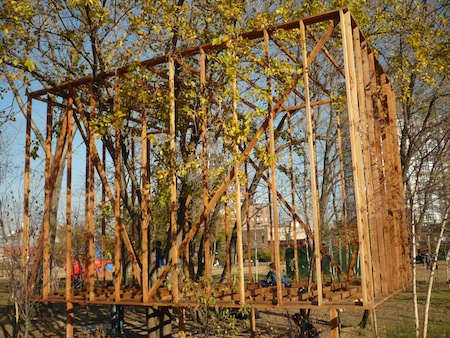 Bigger kids too find this place hard to resist.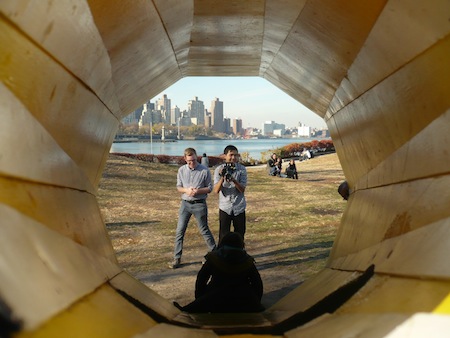 A bit closer to the river it feels more parklike, less playgroundy.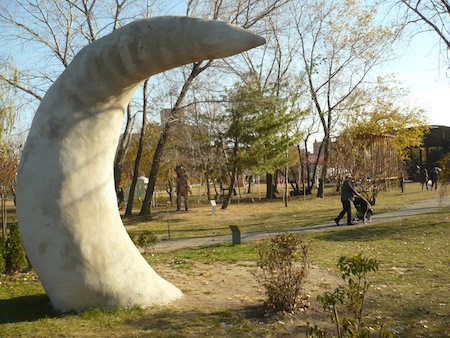 And then there's the waterfront itself.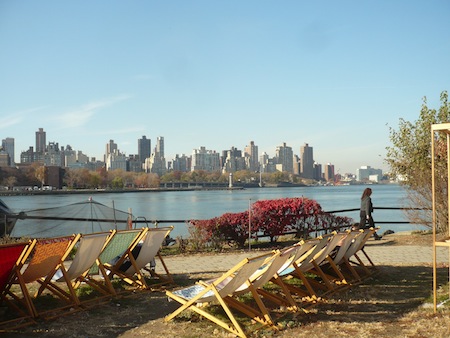 One thing I've learned from internet searches about this neighborhood: I'm not stepping into the quagmire of what's Long Island City, what's Astoria, and how Ravenswood fits in to it all. People get all in a huff about their neighborhood names and histories. What I do know is that Hallet's Cove is the name for the inlet on whose southern border you will find this quirky mudfield called Socrates Sculpture Park (though you won't see the Hallet's Cove moniker on Google Maps).
In any case, and whatever neighborhood you insist you live in, it's probably best to follow the advice written on the rock in the lower right of the photo.