My trip to
Cleveland Park
was an addendum to a visit to the
Vander Ende-Onderdonk House
(inset photo), a 1709 Dutch farmhouse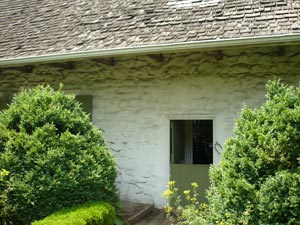 in Ridgewood, Queens that's well worth a trip (and worth your support, especially if you're a Ridgewood-area resident). With several restored rooms in two sections, the older section of fieldstone (shown in photo) and the newer of wood, and an acre and a half of grass behind (with chickens!), this historic house is one of those hidden New York City treasures everyone should know about.
But this being a parks blog, a stopover at a nearby park was de rigeur, and Cleveland Park presented itself as the most obvious choice. The sign at the entrance says "Grover Cleveland Playground" but the park is much bigger than a playground – over five acres – with green stretches and space for passive enjoyment. It's named for the President who, though born in New Jersey, made his career in New York State, becoming governor in 1883 and winning the presidency for the first time the following year. The park adjoins Linden Hill Cemetery and dates from the 1920s. It includes a variety of playgrounds and facilities; originally, it even had tennis courts, according to the Parks Department.
The comfort station was a not insignificant part of my appreciation of Cleveland Park: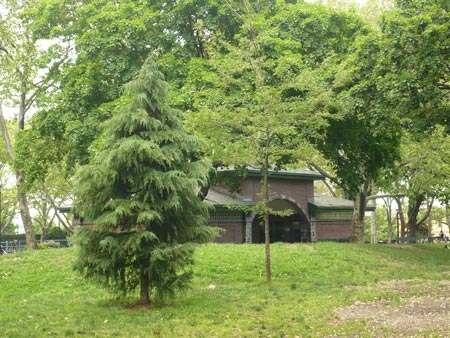 And in fact, there isn't very much else picturesque about the park. It took me a while to find this splash of flowery color: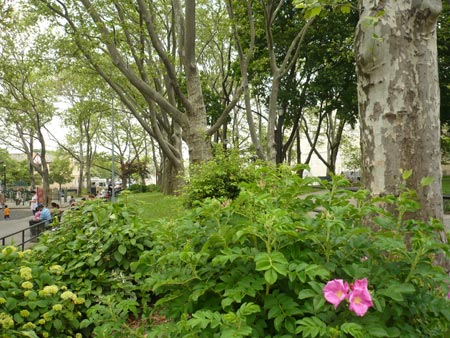 And, uh…well, here's that handsome comfort station again. The black figures on the right are not shades drifted over from the cemetery next door but Muslim mothers taking their children on a perfectly normal trip to the playground.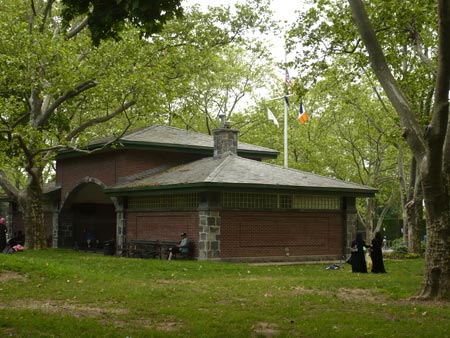 And the most memorable aspect of my visit wasn't anything visible, but the smell of the skewered meat being enthusiastically cooked at a vendor cart just outside the entrance. However, until they invent Smell-o-Rama for blogs, you'll just have to take my word for that.