Off the northern tip of Riverside Park in West Harlem, not far from Grant's Tomb and just across the Henry Hudson Parkway from the Fairway Market, is a unique stretch of Hudson River waterfront little visited by outsiders. West Harlem Piers Park, also (or once) known as West Harlem Waterfront Park, consists of neatly maintained grass-lined paths and piers made into walkways that extend appealingly over the river.
I approached from a dramatic stairway leading down from the elevated part of Riverside Park.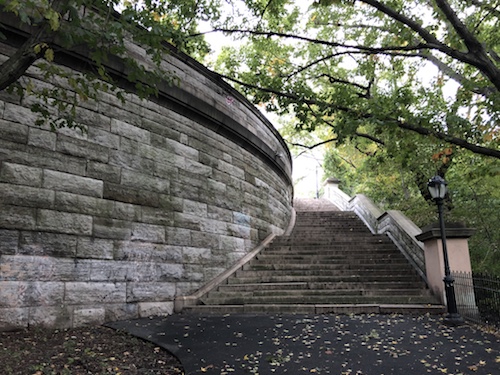 Crossing to the waterfront I found a stone compass rose at the northern tip of Riverside Park, at a terminus of the path known as Cherry Walk.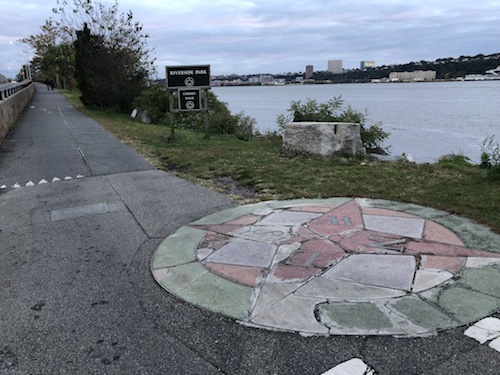 Turning north, I entered West Harlem Piers Park and naturally made a beeline for the nearest pier.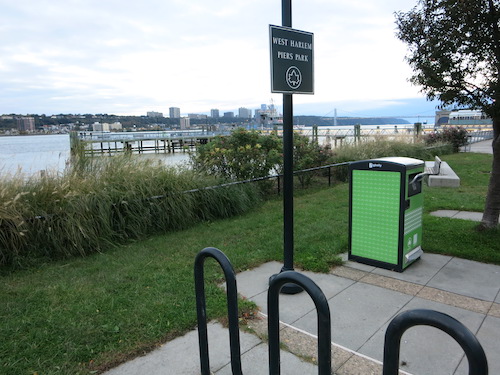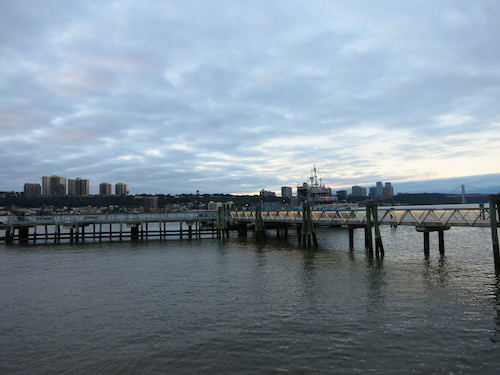 Docked semi-permanently at the southern pier is the Baylander IX-514, a decommissioned U.S. Navy freight and equipment lander and helicopter-pilot training vessel from the Vietnam era.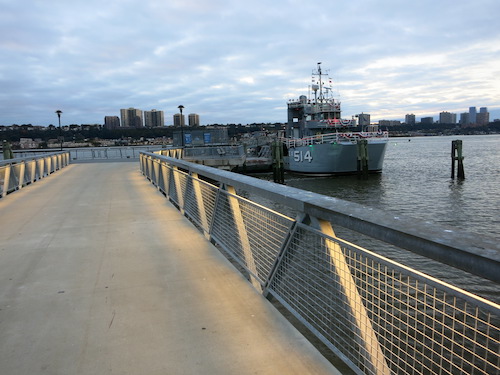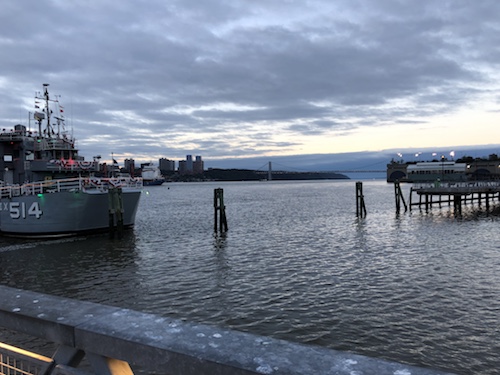 Now owned by the Trenk Family Foundation, the boat retains many of its military accoutrements and is used for events and education. Al Trenk's Air Pegasus runs the heliport at West 30 St., five miles downriver. The Baylander is a lot quieter.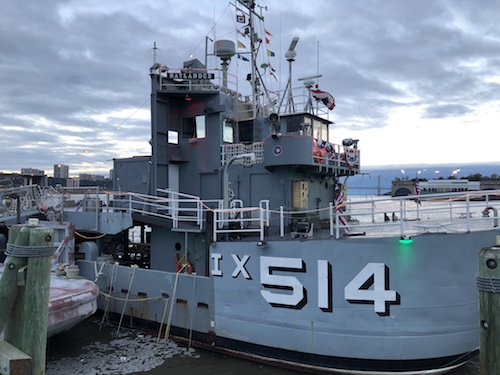 The far end of the angled pier is a great spot for gazing out across the Hudson River. But you can gaze equally well from the strip of parkland on solid ground, where shiny sculptures by Nari Ward representing casting loops (it's a fishing thing) lead you one to the next.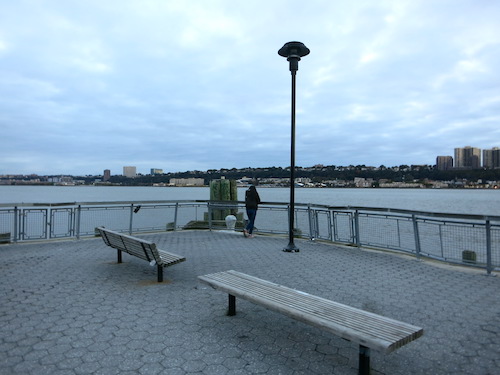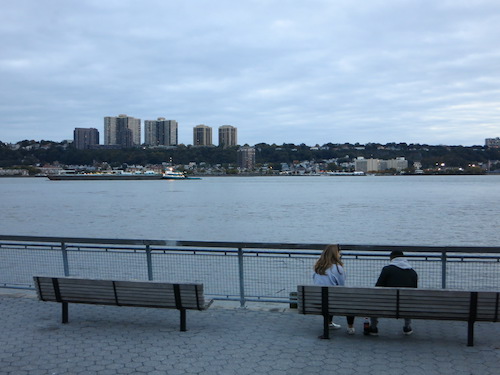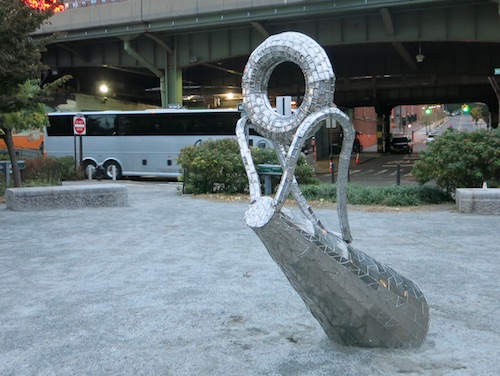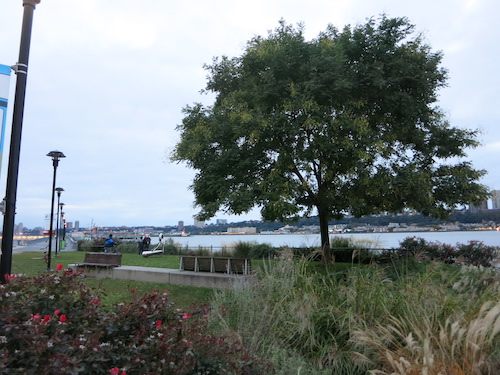 Those angles, with the arched waterfront railroad tracks in the background, make an intriguing picture, especially as the piers light up with the approach of evening.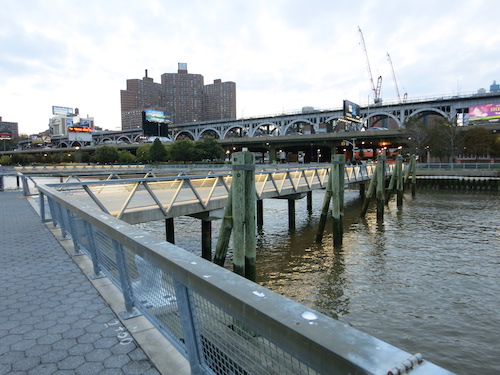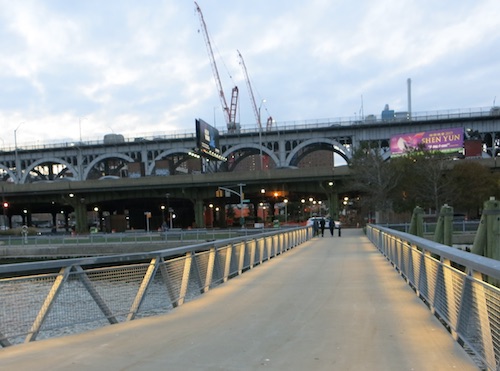 The northern pier provides an unobstructed view of the other side of the Baylander.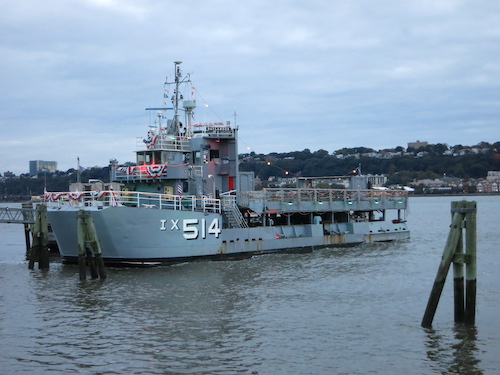 This neighborhood now called Manhattanville used to be a village by that name, then an important waterfront and railroad town, before becoming industrialized. Most recently it's home to an expansion of Columbia University's campus. (It was never the home to Manhattanville College, founded downtown and now located north of the city in the Hudson Valley.)
Everyone knows about Harlem, and New Yorkers are aware of the commercial and cultural importance of 125th St. But if you're not from this part of town, you probably never heard of West Harlem Piers Park. And even if you are, it's a somewhat tricky park to get to. There's construction in the area and there are busy streets to cross.
On the other hand, it's close to the 125th St. station on the 1 train. The westernmost stretch of 125th St. angles upward, bumping into 130th St. as both hit the water's edge. (Similarly, down in Greenwich Village by Jackson Square Park you'll find the northern – yes, northern – terminus of West 4th St. banging into 13th St. Such are the crooked ways of our fair city.)
Street confusion aside, West Harlem Piers Park is well worth a visit. Especially near sunset.
All photos © Jon Sobel, Critical Lens Media