The waters of the Gowanus Canal may never be pristine. But the neighborhood around it has sure shined up. Case in point: along the canal's west bank, abutting sparkling new condo buildings, now lies Gowanus Waterfront Park.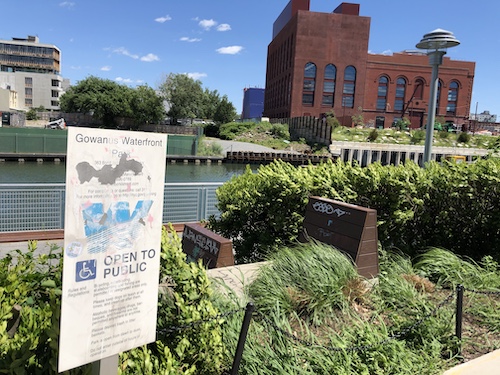 This two-block stretch of walkways, plantings and benches has already suffered some weathering in its few years of existence. But it's quiet and peaceful, with waterfront views that are actually quite nice, and even a few young oak trees blazing bright green on a sunny day in June.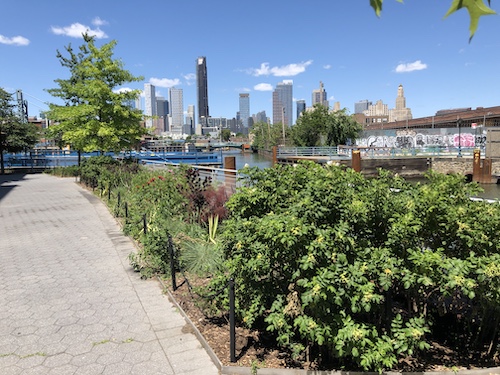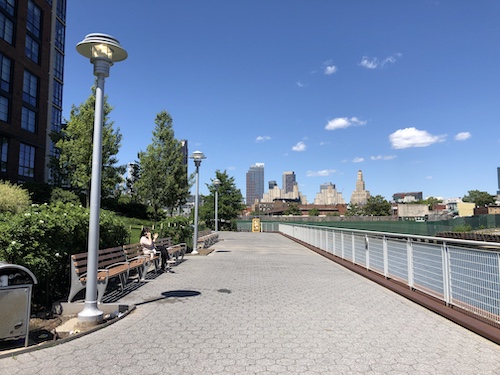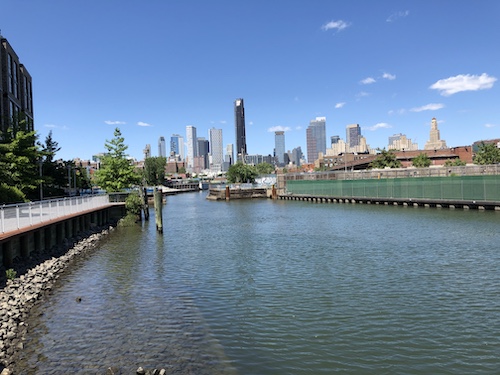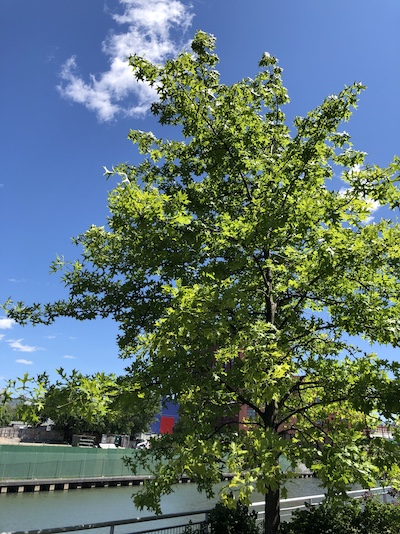 New residential development has erased most signs of the immediate area's industrial past, though graffiti in sight reminds us of the rough edge that remains. (Though also not to hate.)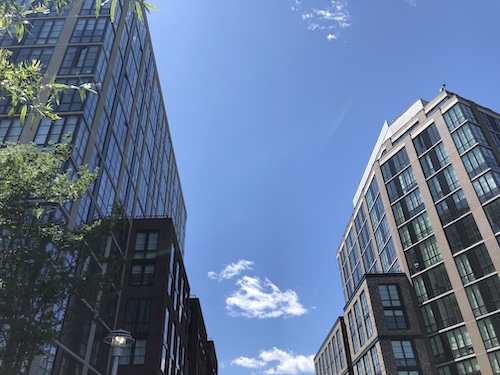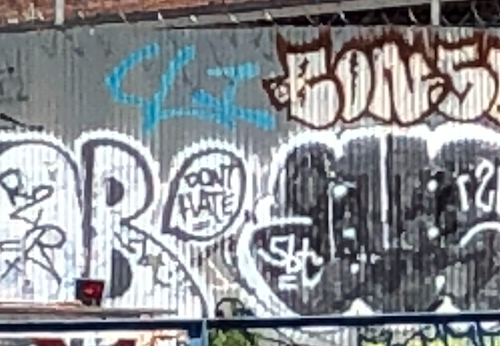 Still, the retractile (or retractible) Carroll Street Bridge at the park's northern end, though currently closed for testing and repairs, vividly reminds us of Brooklyn's history. The bridge opened in 1889. An official city landmark, it is, according to Untapped Cities, the oldest of the three remaining retractable bridges in the United States. Seeing it in operation is a real thrill for an infrastructure-history buff. I really hope it returns to working order eventually.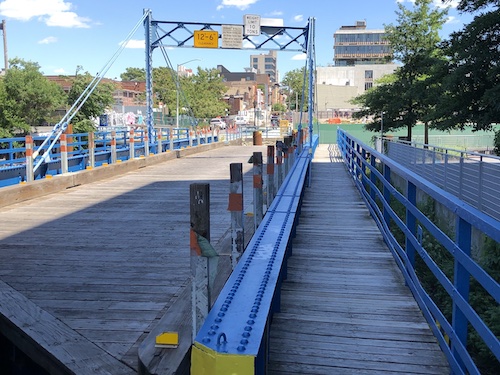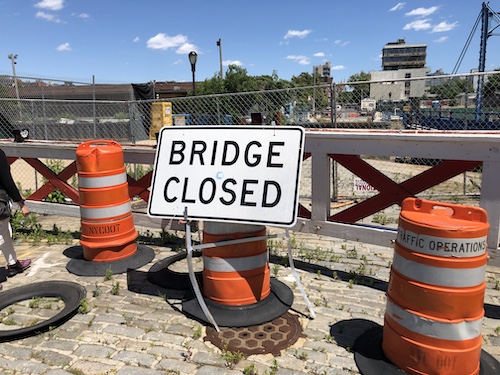 And speaking of infrastructure, at the south end of Gowanus Waterfront Park is another little "park" called the Gowanus Sponge. It is, according to the American Society of Landscape Architects, "a multifunctional public open space system that slows, absorbs and filters surface water runoff to remediate contaminated water, activate the private canal waterfront, and revitalize the neighborhood."
The idea, I gather, is to sponge up dirty water from the streets and buildings so it doesn't flow into the canal and further muck it up. (I'm not sure what is meant by "private canal waterfront" as this is a public park, but let that go.) Anyway, here's what the "sponge" looks like: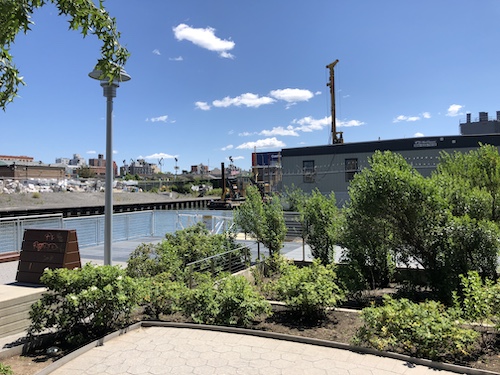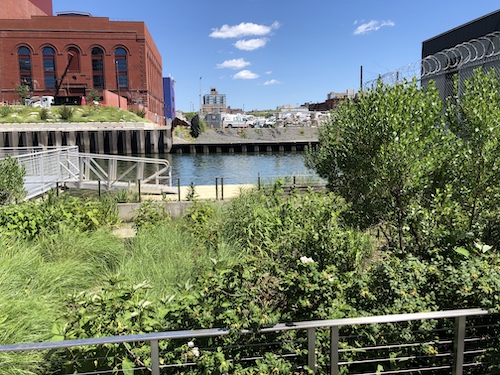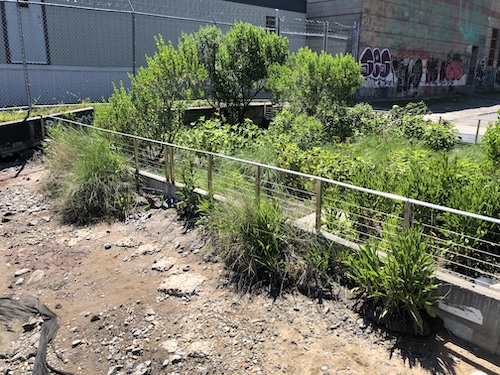 One block south of the park, you can walk or drive across the canal via the (intact) Third Avenue Bridge to a new Whole Foods Market, complete with a covered parking lot with wind-powered lighting. Here is old Brooklyn, this place seems transplanted from an alternate universe.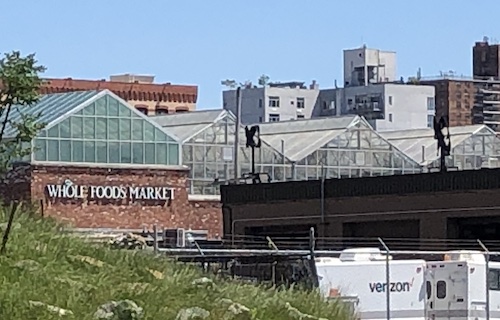 From a real estate point of view – and New York City is all about real estate, after all – Gowanus Waterfront Park is "the dynamic waterfront park at 365 Bond...the living center of the new canal ecosystem and the Gowanus community."
Take that for what it's worth, but do visit Gowanus Waterfront Park and its spongy appendage. The water is still murky and green, but the evolution continues.